Have a plan so you're covered when disaster strikes
Disaster recovery (DR) is a holistic strategy including people, processes, policies, and technologies. It focuses on restoring the IT systems critical to supporting business functions. If you don't have a DR strategy yet, we can help you create your own plan for the systems you host on Rackspace infrastructure. Our disaster recovery specialists can review your environment and propose a mix of resiliency tools that can help you achieve your recovery targets—all within your budget.
How we can help
Whether you need help backing up important databases or architecting a complex replication solution across Rackspace data centers, we have the expertise, technologies, and services that your plan needs. See how a solution might look by viewing a reference architecture.
The best way to avoid downtime is to eliminate single points of failure in your configurations. As you add redundancy, your ability to recover quickly improves—and your costs increase. We understand that DR is expensive, so we can offer you an experienced team that can help you choose the right resiliency solutions based on your risk tolerance, and ensure they're optimized to meet your recovery objectives and budget. Our disaster recovery specialists can help—contact us.
LOW


Tolerance
MEDIUM


Tolerance
HIGH


Tolerance
$$$


QUICK RECOVERY
$$


AVERAGE RECOVERY
$


LONG RECOVERY
Rackspace Replication Manager
DNS Failover (Neustar®)
Array-based Replication
Database Replication (transactional)
Database Replication (mirroring)
Database Replication (log shipping)
VM Replication
Managed Backup
Downtime cost calculator
Wondering how much an outage could cost your business? This calculator can help you determine how essential uptime is—and justify the cost of Disaster Recovery Planning to your organization.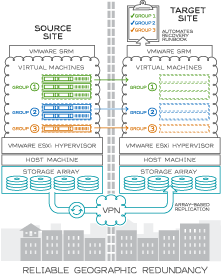 Add automation to your disaster recovery plan
Simplify and automate parts of your DR plan. The Rackspace Replication Manager service uses VMware® vCenter™ Site Recovery Manager™ (SRM) and works in concert with Rackspace Array-based Replication to deliver fast, reliable recovery of the apps your business relies on for its operations.
Resiliency solutions often require you to manually recover your data, making for an unreliable, time-consuming, and complex recovery process. Replication Manager helps ensure fast, reliable recovery thanks to automated processes. It automates the failover of your Rackspace-hosted VMs to your secondary site and also enables non-disruptive failover testing.
Learn how Replication Manager works with our Array-based Replication solution