Managed IT Services to Support the Delivery of Secure Government Services
To get the most value out of your IT investment, you need to continually optimize it. Yet most IT teams spend the bulk of their time managing vendors and daily operations. We're here to bridge that gap.
With nearly two decades of experience helping federal agencies, our team of certified professionals will perform all the essential tasks that your team can't. They'll focus on providing reliable uptime, so you can focus on delivering quality service to the public sector.
Layer our managed services on top of our authorized private cloud platform, a public cloud solution such as AWS or Microsoft® Azure®, or a custom hybrid configuration.
We back all of our managed services with Fanatical Support® — the deep expertise and dedication to service that's at the core of everything we do, available 24x7x365 by phone, email and chat.
Flexible Choices
We understand that there is no "one size fits all" approach to the cloud. We'll work with you to understand your unique needs and customize a solution to meet your requirements for delivering quality service to government agencies.
Secure Solutions
We take security seriously. We implement and administer security controls based on NIST SP 800-53, NIST 800-171 ("DFARS"), FISMA and FedRAMP guidelines, and specialize in deploying high-security and high-performance solutions.
24x7x365 Support
Receive expert guidance at every stage, with the option of receiving U.S.-based support, from U.S. citizens performing work in the continental U.S. We have the experts on hand to help you be successful.
Managed Services for Government
Security Services
Select the additional security services you need to get the most value from your government cloud solution, including encrypted storage, continuous monitoring, vulnerability scanning and network intrusion detection.
Managed Infrastructure
We'll fully manage your hardware, software and virtual environments for optimal performance, including load balancing, access, image and change management.
Storage-as-a-Service
We'll fully manage your secure storage environment for you, including allocation, provisioning, monitoring, patching and maintenance.
Data Backup & Disaster Recovery
We'll provide reliable enterprise-level data backup, replication and regular DR testing to help ensure operational continuity of your production environment.
Customize Security
Our team of certified security engineers — thoroughly trained in all aspects of privacy and data protection — can work with you to create a custom solution to help address your business and compliance requirements.
They'll employ logical and physical security controls and tools that meet or exceed industry best practices, including:
Anti-virus programs
Vulnerability scanning
File integrity monitoring
Intrusion detection and prevention measures
Gain some peace of mind knowing that security experts will monitor your mission-critical systems 24x7x365 and respond to security issues on your behalf.
Backup & Restore Data
Rest easier knowing your critical data is being backed up regularly and can be easily restored if needed.
We'll take care of all aspects of backup administration, including 24x7x365 maintenance and support of your backup agent and synchronization with an alternate data center location.
OS Management
Give your team one less thing to worry about by offloading day-to-day management of the operating system to our experts. They'll look after all aspects of the OS, including:
Licensing and installation
Configuration and optimization
Software patches and upgrades
24x7x365 maintenance and support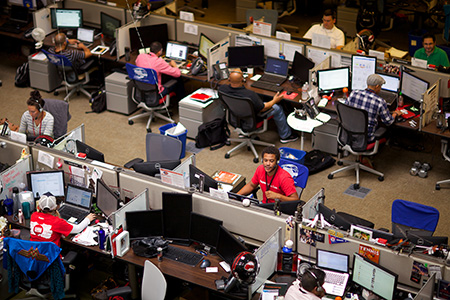 Monitor Performance
Gain insights into system performance with extensive monitoring and reporting, including:
Server summary graphs
Network bandwidth reports
Disk, CPU, and memory threshold monitoring
Network Management
Not everyone has the specialized expertise required to configure a secure network that also performs efficiently. We do. Let our network security engineers expertly manage your configuration, including:
Firewall administration
Managed client VPN services
IP address allocations and DNS
Software patches and upgrades