On Demand, Scalable Traffic Management
Rackspace Cloud Load Balancers
Rapid spikes in online traffic can challenge even the best web sites and applications. During online sales events, even a brief outage can cost you thousands of customers.
Cloud Load Balancers manage online traffic by distributing workloads across multiple servers and resources—automatically or on demand. They maximize your workload performance and help prevent overload to help give your users a seamless experience.
Starting at
A$0.0213/hr$0.017/hr£0.0104/hr€0.0144/hr
High availability without a long-term contract
Benefits of Cloud Load Balancers
Dedicated IP Address
Each load balancer is assigned an IP address that remains static while the load balancer is in use.
Built-in High Availability
One load balancer is all you need for high availability. See the Cloud Load Balancer SLA.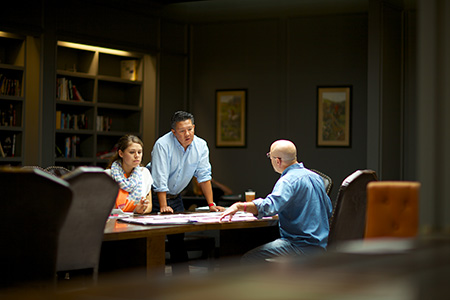 Supports SSL Termination
Offloads public key encryption and decryption, and provides HTTP to HTTPS redirect to help secure transactions.
Advanced Algorithms
Route traffic to backend nodes in the most optimal way for your app. Support includes round-robin, weighted round-robin, least connections, weighted least connections, and random.
Full-Featured API
Use a RESTful web service interface to perform tasks like creating and removing load balancers, adding servers to a pool, or removing servers from a pool.
Multiple Protocols
Supports a variety of load balancing protocols on internal and public interfaces, including HTTP, HTTPS, LDAP, LDAPS, IMAP, FTP, POP3, POP3S, SMTP, TCP, TCP Client-First, UDP, SFTP and MySQL.
Health Checks
Uses synthetic transaction monitoring to inspect HTTP response codes and body content to determine if workloads are healthy.
Advanced Access Control
Enables you to easily manage who can and can't access the services that are exposed through the load balancer.
Connection Control
Simplifies log management by enabling Apache-style access logs (for HTTP-based protocol traffic) or connection and transfer logging (for all other traffic). Automatically sorts and aggregates log data, and sends the results to your Cloud Files account. This makes it convenient to access your raw data for performance tuning or web analytics.
Session persistence directs future requests to the same node.
Connection throttling to protect against malicious traffic.
Content caching improves website performance.
Reduces downtime by managing node traffic flow.
20 Gb/s of highly available network throughput.
Token-based authentication between products and services.
Single persistent connection sends and receives requests.
Gzip compression accelerates API performance.
Supports JSON and XML data serialization.
Cloud Load Balancer Pricing
Get high availability without committing to a long-term contract. We charge for each Cloud Load Balancer instance by the hour, plus concurrent connections. Then we add bandwidth charges starting at $0.12 per outgoing GB£0.0737 per outgoing GBA$0.15 per outgoing GB€0.1017 per outgoing GB. We don't charge for incoming bandwidth.
Type
Per Instance
$0.015/Hr
$10.95/Mo
Per Instance + SSL
$0.05/Hr
$36.50/Mo
Concurrent Connections
$0.015/Hr
$10.95/Mo
Per instance — Billed at $0.015/hr£0.0093/hrA$0.0188/hr€0.0128/hr, metered in one-minute increments
Per instance with ssl — Billed at $0.05/hr£0.0307/hrA$0.0625/hr€0.0424/hr, metered in one-minute increments
100 Concurrent connections — Billed at $0.00015/hr£0.000093/hrA$0.000188/hr€0.000128/hr for each connection based on average utilization sampled every 5 minutes
Bandwidth
Outgoing —Outgoing bandwidth usage for Cloud Servers, Cloud Files, Cloud Load Balancers, and Cloud Big Data is aggregated per account across all US regions. Tiered pricing applies to your total usage, so you pay less per GB the more you use.
| Usage | Price/GB |
| --- | --- |
| First 10TB | $0.12 |
| Next 40TB | $0.10 |
| Next 150TB | $0.08 |
| Next 300TB | $0.07 |
| Next 524TB | $0.06 |
| Over 1024TB | CONTACT US |
* These products are billed monthly.
Incoming & internal —No charge for incoming bandwidth, or for bandwidth within private networks (ServiceNet and Cloud Networks).
Estimate Your Monthly Costs
Quickly estimate the cost of your cloud environment. We help you get set up, and we're there whenever you need us - 24x7x365.