What is Managed Hosting?
beckytrevino
Organizations weighing whether and how to move their IT infrastructure to the cloud are faced with a dizzying array of options. One of those is "managed hosting," also referred to as managed dedicated hosting, dedicated servers or single tenant hosting. All those names refer to an IT service model where a customer leases hardware — servers, storage and network — from a managed service provider, like Rackspace. The hardware is dedicated to just that customer, hence the "single tenant" moniker, giving the customer access to the full performance capabilities of the hardware. As a single tenant, customers have total control over their hardware, apps, operating systems and security. The "managed" part means the MSP handles the administration, management and support of the infrastructure, which is housed in a datacenter owned by the provider, as opposed to onsite at a customer's location. Some companies prefer to lease datacenter space and hardware from a provider, then manage it themselves. This practice is referred to as hosting or unmanaged hosting. But more often today, as technology continues its rapid innovation many organizations are finding that outsourcing day-to-day infrastructure and hardware vendor management to an MSP is of higher value to their business than managing it themselves. Managed hosting is a logical first step for companies seeking to move into the cloud, but with specific limitations that keep public cloud from being the right "first" solution. For example, Six Flags, the world's largest regional theme park company, with attendance at its 20 parks surpassing 30 million visitors annually, needed a website that could stand up to major traffic spikes. They were ready to stop hosting their own infrastructure, but were wary of moving this workload to a public cloud. Managed hosting "mirrored what we were comfortable with in our own data centers," said Sean Anderson, Six Flags director of interactive services, "and actually turned out to be something that we not only understood but also gave us cost efficiency as well as a direction that would allow us to grow." Click below to learn why managed hosting is such a great fit for Six Flags: https://youtu.be/2l3I-2OKKZk Common use cases for managed hosting include web application hosting, datacenter extension and consolidation, legacy and custom application hosting, high-performance computing, data storage and analytics, data backup and disaster recovery. Managed hosting is also a good fit for industries with stringent regulatory or security requirements, such as health care and financial services. For companies in these industries, it is important to make sure their MSP offers single tenant solutions that extend beyond the compute layer down to the storage and networking layers as well, to ensure environments are never shared with others. For other companies, it's the "managed" part that offers the most value. As David Young, chief technology officer at MetroBank put it, "Rackspace proactively monitors their infrastructure day-in-day-out 24/7/365 days a year. We don't have to worry whether we're about to run out of SAN Storage or VMware Servers. They worry about all of that for us.  Our infrastructure scales seamlessly in the background so that means our IT team can focus on what it does best." [Read about other organizations that have chosen managed hosting]
What services are included in managed hosting?
Services offered differ by individual company. However, most service providers break up their services into six management layers before reaching the customer business process. These service layers help to define what is managed by the customer versus what the provider will own. You can see these six management layers in the diagram below.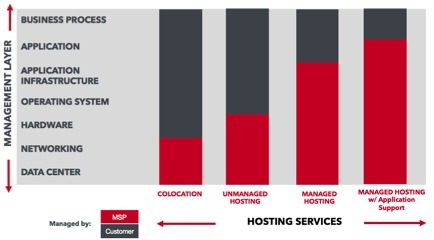 Managed hosting provides support for operating system and application infrastructure, while an unmanaged hosting service does not. In the last few years, many managed hosting vendors have increased their spheres of support to include application management. For example, Rackspace provides application support for SAP, Oracle and MSSQL among many others. Managed hosting benefits vary due to differences in owned versus leased or licensed hardware and software assets. However, the fundamental questions that drive the decision to move to the cloud via managed hosting or any other cloud platform never change.
Does moving to the cloud make business sense?
What are the investments, expenses and payoffs?
How long will the migration/transition take?
Does your team have the skillsets required?
What are the business risks?
How will existing cost structures be affected?
These are all important questions that must be answered before deciding if managed hosting or any other cloud platform is right for you. [Use our Total Cost of Ownership calculator to see if managed hosting makes sense for your needs] Rackspace can help your organization work through these questions. Founded in 1998, we created the managed hosting category and have since expanded the number of cloud managed services we provide without ever changing our unwavering commitment to Fanatical Support. Managed hosting runs in our blood and we'd love the opportunity to help you determine if managed hosting (or one of our other cloud platforms) is the best fit for your workload and cloud journey. Request a free quote or chat with us today. 
Get the Right fit for the Highest Returns