Rackspace Managed Services for SAP Business Intelligence Applications
How confident are you that your business is extracting maximum value from the data it collects and produces? If you aren't using business intelligence (BI) to better understand your customer behavior and business data, you are missing out on opportunities to maximize your ROI of your technology stack.
Whether hosted on premises or in the cloud, we can help you use SAP® BI tools to gain valuable insights from customer behavior and business data. You can then enhance your product and service offerings — and create new revenue streams — by making more informed decisions and translating these insights into actions.
As an SAP Silver Partner, we have proven experience implementing, managing and supporting solutions based on the SAP Business Objects Business Intelligence platform, including:
Assessments and Roadmaps
Data Quality and Governance
Data Integration and Warehousing (including Rapid Marts)
Dashboards and Reporting (including Crystal Reports)
We also support BI and analytics solutions built on SAP HANA®.
Don't miss out on opportunities to use the valuable data you generate to improve business outcomes. Use our business intelligence consulting and BI-as-a-service capabilities to help boost your bottom line.
Managed Infrastructure
We offer a variety of hosting options for your SAP BI applications, so you can choose the solution that meets your business requirements for a scalable infrastructure:
Our managed hosting services include servers, operating systems, storage, backups, networking and security.
Managed Applications
Our capabilities extend beyond infrastructure to the SAP applications you use every day. Leverage our expertise to manage — and provide ongoing support for — your SAP BI applications. We'll help you by:
Offering guidance around best practices
Implementing and supporting features and functionality
Answering questions, troubleshooting and resolving issues 
Our managed application services for SAP include functional support for business processes, customization, consulting and database administration.
Customized Solutions
Our certified experts can help you customize your SAP BI solution by working with you to:
Assess ways to optimize your solution
Create a strategic roadmap for implementation
Identify key metrics and analyses to measure actions
We're always available to share our expertise and help you get the most out of your business intelligence.
New Implementations
Our SAP-certified experts can help you with everything from SAP BI solution design and implementation to metric tuning and analysis. We'll help you streamline the analytics process so you can discover efficiencies within your business and find meaningful patterns in your data.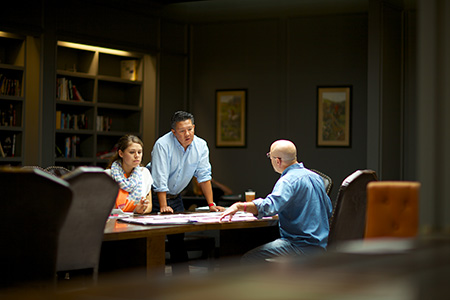 Patches and Upgrades
Offload development tasks related to applying fixes and performing upgrades for your SAP BI solution. We'll make sure everything continues to work afterwards, enabling your IT team to focus on higher-value activities and more strategic initiatives.

"Because of Fanatical Support, we knew we were partnering with a best-in-class company that shared our vision of getting it done."
Brian McManus
Senior Director of Technology - Under Armour
SAP Expertise
As an SAP Silver Partner, we are recognized for our deep expertise managing SAP services and technologies, and our extensive experience supporting SAP customers and end users around the world
24x7x365 Support
With Rackspace Fanatical Support® you receive around-the-clock assistance from a team of SAP experts who take proactive steps to minimize issues and help resolve them quickly — available whenever you need them by phone, email or chat