We know how important your customers' trust is to you. That's why you can trust us to fully manage your SSL certificates. We offer SSL certificates from Symantec—the most recognized brand in the business. Plus, we back your certificate with Fanatical Support®.
Purchase: We can help you choose the right certificate. After you purchase, you receive one consolidated invoice, minimizing purchase complexity.
Verification: We keep you informed of any action required by the Certificate Authority to validate your identity so you can install your certificate quickly.
Installation: Once you're validated, we begin installation immediately, bringing your certificates online faster.
Maintenance: As you add servers to your environment, we can install your certificates on those new devices.
Renewal: As your certificate's expiration date draws closer, we notify you and help renew your current certificates. Or we can help select a different certificate, if your needs have changed.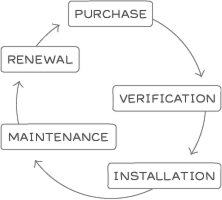 Fanatical Support gets your certificates online faster and helps ensure they won't expire without time to renew. Ultimately, this means more traffic to your site and more money in your pockets.
Already Have an SSL Certificate?
Take advantage of our SSL support by transferring your current certificate to us. We may even be able to credit any time remaining on your current certificate to a new one, at no cost to you!
Which SSL Certificate is Right for You?
Rackspace offers several certificate types so that you can get exactly the right one for your needs:
Norton Secured™ Powered by Symantec
| | Symantec Secure Site Pro with EV | Symantec Secure Site with EV | Symantec Secure Site Pro | Symantec Secure Site Wildcard | Symantec Secure Site |
| --- | --- | --- | --- | --- | --- |
| Encryption Strength | 128-bit minimum to 256-bit | 40-bit minimum to 256-bit | 128-bit minimum to 256-bit | 40-bit minimum to 256-bit | 40-bit minimum to 256-bit |
| Extended Validation | | | | | |
| Full Organization Authentication | | | | | |
| SAN | Up to 24 | Up to 24 | Up to 24 | † | Up to 24 |
| Wildcard Domain | | | | | |
| Browser Padlock | | | | | |
| Browser Green Bar | | | | | |
| Vulnerability Assessment | | | | | |
| Site Malware Scanning | | | | | |
| Site seal | | | | | |
| Seal in search results | | | | | |
| NetSure extended warranty | $1,750,000 | $1,750,000 | $1,500,000 | $1,500,000 | $1,500,000 |
| Time to issue | 3-10 business days | 3-10 business days | 1-3 business days | 1-3 business days | 1-3 business days |
| Description | An Extended Validation certificate offering the most trusted and secure choice for website security, attracting more customers to the site and giving them the confidence to complete their transactions, while enabling the strongest SSL encryption available to the most site visitors. | An Extended Validation certificate that attracts more customers and gives them confidence to complete their transactions online. | An Organizational Validation certificate that enables every website visitor to experience the strongest SSL encryption that includes server-gated cryptography. | An Organizational Validation certificate that protects the transfer of sensitive data on websites, intranets, and extranets, and supports wildcard domains. | An Organizational Validation certificate that protects the transfer of sensitive data on websites, intranets, and extranets. |
†
Only supports automatic www domain
Secured by thawte™
| | Thawte SSL Web Server with EV | Thawte SSL Web Server with Wildcard | Thawte SSL 123 DV |
| --- | --- | --- | --- |
| Encryption Strength | 128-bit minimum to 256-bit | 40-bit minimum to 256-bit | 128-bit minimum to 256-bit |
| Extended Validation | | | |
| Full Organization Authentication | | | |
| SAN | Up to 24 | † | |
| Wildcard Domain | | | |
| Browser Padlock | | | |
| Browser Green Bar | | | |
| Vulnerability Assessment | | | |
| Site Malware Scanning | | | |
| Site seal | | | |
| Seal in search results | | | |
| NetSure extended warranty | $1,500,000 | $1,250,000 | $500,000 |
| Time to issue | 3-10 business days | 1-3 business days | 1 business day or less |
| Description | An Extended Validation certificate that enables the most visible security indicator. | An Organizational Validation certificate to secure confidential information exchanged online and confirm website identity that supports a wildcard domain. | A Domain Validation certificate for the fastest issuance time to enable encrypted connections. |
†
Only supports automatic www domain