Protection against today's advanced cyber threats...
Managed Security Services
With Rackspace, an innovative Managed Security Services Provider (MSSP), you get active threat detection plus rapid remediation. Most MSSP's simply notify you of a breach — leaving it up to you to respond.
 
We respond immediately to threats and cyberattacks on behalf of our customers, effectively minimizing business impact.
Download the FREE Whitepaper on Rackspace's Security Philosophy
Trust Rackspace, A Leading MSSP
Chosen by Leaders
---
Leverage our experience safeguarding 300,000 customers, including over half of the Fortune 100.
Proven Experience
---
15+ years hosting experience securing a global footprint in 120+ countries with a team of seasoned experts.
Today's Threat Landscape is Rapidly Changing
Today's evolved cyber attacks are often targeted at a specific entity, such as a government or enterprise, and are executed by "advanced persistent threats" (APTs). This begins as an APT gains access to the target's network and stays there, undetected, for a long period of time — with the goal of stealing data, rather than causing immediate damage.
According to a recent study from Mandiant Consulting, the average time to detect these threats inside an environment is 146 days.
Read more about the anatomy of a cyber attack on our blog.
You Need An Active Information Security Approach
Don't go it alone. When you turn to Rackspace Managed Security Services, you gain access to a proven MSSP, combining best-in-class people, process and technology, to deliver fast breach detection and remediation.
And when you need support for compliance efforts, our experts can help define, manage and validate your PCI-DSS, and other compliance goals. We provide dedicated support for infrastructure security assessments, plus advanced monitoring and logging solutions.
Learn more about Rackspace Managed Security Services solutions
People
Our Customer Security Operations Center (CSOC) specialists actively hunt for threats 24x7x365.
Process
We not only detect but also rapidly respond and remediate on your behalf, using pre-approved actions.
Technology
Best-of-breed security technology and advanced analytics underpin our services.
We Secure Your Most Valuable Information
Prioritize and Understand
---
We prioritize your information and understand its value to your business. It's not about just securing the perimeter anymore. It's about data security inside your organization.
Actively Hunt for Threats
---
Abandoning the traditional reactive posture adopted by most MSSPs - we actively hunt for security vulnerabilities rather than waiting for an alert to trigger, which may be too late.
Take Immediate Action
---
We take immediate action to protect your mission critical data and minimize business impact. The faster we can respond, the less likely the attackers will find the information they're seeking.
"High availability and security are mission critical to an organization like National Kidney Registry. Knowing that our Rackspace team is there to help maintain uptime as well as rapidly detect and respond to any security threats 24x7x365 is crucial."
Joe Sinacore
Director of Education & Development, National Kidney Registry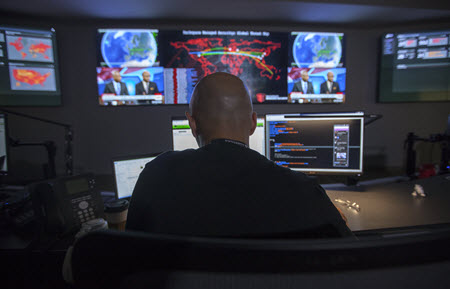 In today's security landscape, an effective security strategy begins with having the right people with the right expertise. Setting and forgetting the latest tools is simply not enough to effectively minimize business risk. You need highly skilled analysts to actively patrol the network, identify vulnerabilities and respond appropriately to threats.
 
That's why Rackspace is proud to employ some of the top professionals in the field of cybersecurity, and to extend that expertise to help our customers defend their businesses. Our 24x7x365 CSOC is staffed by experienced GCIA- and GCIH-certified security analysts who hold many other certifications, and possess credentials exceeding industry standards.
.
Learn More About Our Experts