How to Get Started with AI and Machine Learning
What is the best way forward on your AI journey?
Looking to introduce artificial intelligence (AI) and machine learning to your business, but aren't sure where to start? After working with AI and machine learning for many years, I wanted to share some advice on getting started to help organizations move their feet forward with this amazing technology. But first, I think it's useful to break down the meaning and differences between AI and machine learning.
AI and machine learning: What do these terms actually mean?
Artificial intelligence is a computer system that can solve problems in ways that are traditionally associated with human cognition and learning.
Machine learning is the training of a computer system to make predictions using statistical models based on data, which is the vital underpinning of artificial intelligence.
Ultimately, the goal is decision-making without a human agent. Say you have a big problem with a consistent set of rules. If you could find the right rule set to implement a solution at scale, it could save money or help you make more money as a company.
What's the first step for artificial intelligence in business?
When you're getting started, it's essential to think about the problems you want to solve. It helps to know your exact problem so you can decide on the data you need and whether an algorithm solution is the best way to solve the problem. Businesses tend to use AI and machine learning when complex decision-making rules cannot be properly or easily articulated.
As you evaluate your problem and any associated data, think about where automation could save you time, money and effort. Perhaps there's an application or part of your business that typically encounters errors in data processing. This might be an opportunity to have an algorithm identify the patterns more clearly so you can automate this action.
A proof of concept can help you see how a solution works before investing at scale. It's also important to think about the teams that will be affected by the solution and who you will need to work with to make the project a success. For example, if you want to automate document distribution across your business, it's a good idea to ask the people who distribute documents for their input on the complexities and nuances.
How do AI and machine learning work?
A model or algorithm is trained on existing data to find the most likely configuration to predict an outcome. Machine learning and AI usually predict very specific things such as a number or category.
Once you've configured the statistical equation or algorithm, which are essentially the same thing, the model can be used to quickly make new predictions about future outcomes.
According to our recent research report, AI and machine learning are used by most businesses to improve efficiency of processes (52%), understand employees and customers (44%) and to predict performance and industry trends (42%). Among the many uses for AI and machine learning, our research indicates that most technology leaders are using artificial intelligence in business to:
Improve process efficiency: Whether it's automating processes, improving maintenance schedules or optimizing inventory levels, AI can help reduce wasted time or material. For example, chatbots save businesses money by automating customer service and helping customers with common problems.
Generate customer insights: There is a lot of customer data that can be used to understand different customer buying patterns. You could use an unsupervised learning algorithm to reveal latent classes of customers beneath the surface.
Predict performance and industry trends: AI helps many businesses to generate forecasts. A company can more precisely assess inventory patterns, and then improve product offerings simply by ensuring they have enough of the product or a specific color or size on hand when needed.
Should you build or buy AI and machine learning solutions?
Our recent research report revealed that 53% of IT leaders said they'd rather build an AI and machine learning solution from scratch than buy one.
This enthusiasm to take a DIY route stems from a misconception that AI solutions take longer to implement when using components that have been purchased.
For simpler AI initiatives, it's already easy to implement components from one of the hyperscale cloud providers, like Google Cloud Platform™ or AWS. Over the last five years, hyperscale cloud providers have made it much easier for organizations to use AI-related services and tools.
Many organizations find they can reduce costs and save time by purchasing off-the-shelf services or tools that already incorporate automation.
There are often specific stages in an AI and machine learning project that require the same actions. It is these stages that are automated in partner tools and services. Using pre-built components allows developers to spend more time working on customization.
Overcoming common challenges
According to our research report, another significant barrier to AI adoption is the difficulty many organizations face when trying to align AI and machine learning strategies with business strategies. To keep your AI projects on track, you need to gain organizational support and reach a consensus on deliverables, milestones and timelines.
Almost every AI project seeks to leverage insights gained from data. Converting the numbers into actions is a goal of every organization. However, organizations often encounter challenges in drawing actionable insights from data. According to our AI and machine learning research, respondents cited disparate data silos (36%), technical capabilities and talent (36%), and timing challenges (35%) as the top barriers to actionable insights. To get past these barriers and start generating the insights they're looking for, companies need higher-quality data that's been compiled with greater accuracy and is widely accessible. The ability to draw actionable insights from data can also be enhanced through better internal skills training, the hiring of talent with specialized data skills, and a focus on better utilizing the skills that are already available in-house.
Organizations often struggle with communication and clarity surrounding AI and machine learning. During our research, we found that less than half of respondents believe that any of their internal departments outside of IT understand the benefits of AI.
You can help instill a greater understanding of AI throughout your organization by providing training, promoting attendance at conferences and events, and suggesting relevant online reading to your teams Our research shows that 51% of respondents believe there's a need to train current staff on AI and machine learning solutions, programming and software design, machine learning, and data quality analysis.
Now is the time to embrace AI
PricewaterhouseCoopers predicts that AI will contribute $16 trillion to the global economy by 2030. McKinsey agrees on its importance, but estimates a $13 trillion contribution to the global economy. Either way, the impact of AI will almost certainly be monumental. Now is the time to start an ongoing dialogue about AI and its use cases in your business.
Should You Be Building or Buying AI/ML Solutions?
About the Authors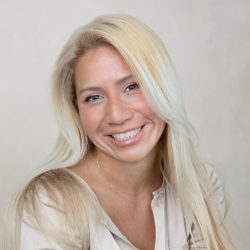 Professional Services Delivery Architect
Miriya Molina
Miriya Molina has 10 years of experience designing, developing and leading technology teams delivering the future in Artificial Intelligence, Machine Learning and Data Science. She has a creative passion for solving interesting problems and has contributed to a diverse range of industries including finance, real estate, and energy technology. Prior to Rackspace Technology, Miriya was Vice President of Product and Chief Technology Officer across different startups where she implemented pattern recognition systems and delivered end-to-end technology solutions. She is currently a rising star at Rackspace Technology within the Onica Group.
Read more about Miriya Molina