Automate and Standardize Your Cloud Infrastructure
Setting up and managing cloud resources doesn't have to be a repetitive, manual chore. Powered by OpenStack® Heat, Cloud Orchestration lets you quickly and easily deploy your infrastructure (and even manage its lifecycle) in a consistent, repeatable way using fully configurable templates.
Included
FREE
With every cloud account
Benefits of Cloud Orchestration
Save Time
Spin up a full production environment plus software with just a few clicks—so you can spend your time innovating, not installing.
Build on Best Practices
We created the Rackspace templates based on years of experience managing, scaling, and optimizing cloud stacks, so you can be confident you're building on a solid foundation.
Get Optimal Performance
Automating stacks give you the confidence of knowing that your software is configured and optimized for the cloud.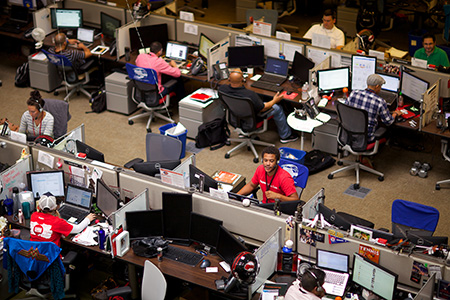 "Fanatical Support is not just about helping us solve immediate problems - they are always looking towards the future, helping us to look at problems or solve problems we might not even have seen yet."
JOE LAMBERT
TECHNICAL DIRECTOR
Automated
Ensure your cloud infrastructure deploys quickly and exactly the same way every time.
Simplified
Don't worry about how resources are instantiated and in what order. Just declare what you want instantiated.
Portable
Reuse your templates and move your stacks between any public or private OpenStack cloud that implements Heat. You can even reuse your Amazon Cloud Formation templates.
Easy Configuration Updates
With Custom Templates, modify the configuration of your stack simply by editing the template and running an update (via Control Panel interface, from the command line, or by making a single API call) regardless of how many changes you're making.
OpenStack Component Support
Powered by OpenStack Heat with direct access to OpenStack components like Nove (Compute) and Swift (Object Storage).
Managed Support
With Fanatical Support, you get 24x7x365 access to thousands of cloud engineers and OpenStack experts to assist you whenever you need it.
Custom Templates
From simple to complex application stacks, you can build customized templates to meet your needs and deploy them using the Cloud Orchestration API, the Cloud Control Panel, or the command line. This gives you deep control over the exact characteristics of your cloud resources, including the order in which they spin up. Your YAML- or JSON-based templates can even trigger Chef or Ansible scripts to manage system configuration. To help get you started, we provide a library of pre-built example templates that you can download and modify to meet your unique needs.
Rackspace Templates
If simplicity is your goal, use our Cloud Control Panel to spin up a pre-built, pre-validated stack in minutes. Just click a few buttons and provide some basic information to get started. We build our standard stacks using industry best practices, with a growing catalog that includes WordPress, LAMP, Drupal, PHP, Ruby on Rails, MySQL, MongoDB, Cassandra, and more.
Step 1: Select
Simply select a ready-to-go application template from the control panel, or, design your own custom template.
Step 2: Configure
OpenStack Heat configures and instantiates the resources in the stack based on the template you selected.
Step 3: Deploy
Start using your application!