Solve problems faster with custom infrastructure monitoring
Globally distributed applications need more than just basic monitoring. They need a quick and powerful way to continuously monitor the entire infrastructure stack, and a customizable level of detail that pinpoints core issues for speedy resolution.
Rackspace Monitoring is an enterprise-grade solution that helps keep your applications up and running fast—all of the time. Remote monitoring tests connectivity from regional zones deployed throughout our global data centers, and agent-based monitoring gathers information from inside each resource—so you always receive the richest information possible.
Included

FREE
With every cloud account

Real-time alerts
Low-latency architecture means you're always the first to know when your environment needs attention—through alerts or our mobile app.

Always-on notifications
Redundant deployment across three data centers enables Rackspace Monitoring to continue processing events and sending notifications—even if there's an outage.

Flexible configurations
Customize your data collection, threshold criteria, and notification alerts so that monitoring is tailored for your workload and your organization.
Managed by infrastructure specialists. We know that when it comes to monitoring, you want to just set it and forget it. Selecting a Managed Operations service level makes that easy. Simply tell us what you want to monitor and how you want to be notified, and we'll take care of the rest. You get the same fully optimized monitoring that we trust to keep our own systems up and running—but without the challenge of defining and managing it yourself. Learn more about your service level options.
Sign up for a cloud account to start customized monitoring today.
Developer Resources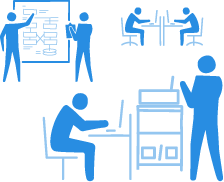 Dig deeper into Cloud Servers with informative blog posts, technical info, and customer success stories.
General Resources
Get instant help and information from blog posts, documentation, white papers, and more.