Scalable cloud object storage
Cloud Files provides online object storage for files and media, delivering them globally at blazing speeds over a worldwide content delivery network (CDN). You can store as many files as you want—even very large files.
First 1TB

$0.10/GB/mo
Simple per-GB pricing

Reliable
Cloud Files maintains three copies of each file, so your users get files faster and more reliably. Availability is important to you, so our SLA guarantees it.

Fast
Cloud Files uses over 200 global edge locations around the world, so your users get content fast—from servers within their region. This makes Cloud Files great for media hosting.

Easy to use
Store and manage your files using our online control panel or desktop software or programmatically via the Cloud Files API. Developer tools are available for Java, Python, Node.js, Ruby, PHP, and .NET.
Our tightly integrated and easy-to-use CDN can distribute your public content—images, video, audio, and even HTML, JavaScript, and cascading style sheets—to hundreds of edge locations worldwide, so it's close to your users. Less distance to travel means your users get your content faster.
Everything we do is managed cloud. With managed cloud, we'll run your cloud operations for you, or just be there whenever you need us. Specifically for Cloud Files, we can troubleshoot and verify your object storage, and ensure your content is delivered at top notch speeds across the globe. See everything you get.
Pricing
Prices are based on aggregate total of storage and bandwidth for your account across all US regions.
Storage
Pay less per GB when you store more files and media. Tiered pricing applies to your total Cloud Files usage per account across all US regions.
CDN Bandwidth
Tiered pricing applies to your aggregate CDN bandwidth usage per account across all US regions. The more you use, the more you save. (Note: CDN for Cloud Files is unrelated to Rackspace CDN, a separate offering with its own pricing model.)
Usage
First 1TB
$0.10
$0.000137
Next 49TB
$0.09
$0.000123
Next 150TB
$0.085
$0.000116
Next 300TB
$0.08
$0.00011
Next 524TB
$0.075
$0.000103
Over 1024TB
$0.07
$0.000096
Usage
First 10TB
$0.12
$0.12
Next 40TB
$0.10
$0.10
Next 150TB
$0.07
$0.07
Next 300TB
$0.05
$0.05
Next 524TB
$0.04
$0.04
Over 1024TB
CONTACT US
CONTACT US
* These products are billed monthly.
Outgoing bandwidth without CDN starts at $0.12/GB with discounts available for higher usage.
Rackspace Cloud Files allowed us to create an environment where our user-generated content could be stored 'on the fly,' allowing each web head to share that content.

— John Baranowksi, Co-founder, LoveBook Online
Discover the power of Cloud Files. Create a cloud account to get started.
Developer Resources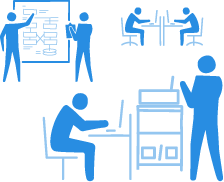 Dig deeper into Cloud Servers with informative blog posts, technical info, and customer success stories.
General Resources
Get instant help and information from blog posts, documentation, white papers, and more.