Fast & Reliable Block Storage in the Cloud
Most databases and apps grow over time, and eventually require increased storage capacity. Adding physical storage or upgrading to a bigger server can be a costly and unscalable way to solve capacity issues.
Cloud Block Storage offers reliable, high-performance, on-demand storage for applications hosted on Cloud Servers. Even the most resource-hungry workloads run seamlessly, so users can always count on your application to perform consistently.
Starting at
$0.12/GB/Mo£0.07/GB/MoA$0.15/GB/Mo€0.10/GB/Mo
No upfront costs
Benefits of Cloud Block Storage
Easy to Provision
After provisioning a Cloud Server, easily add block storage through the control panel or API, and partition as needed.
Faster Data
Super-fast 10GbE internal network connection to your storage volume means relief from I/O bottlenecks, increased throughput, and better performance for your apps.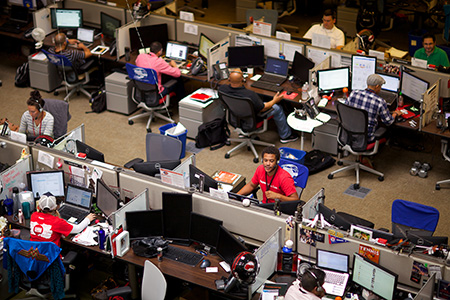 Simple, Per-GB Pricing Model
Includes free I/O. Pay only for the amount of block storage that you provision.

"As you study how other people have failed, you'll really see the shining stars in the server game."
Michael Dweck
Co-founder and President
Reliable I/O
As a standard feature, we provision high-capacity storage volumes to significantly reduce IOPS competition and provide a more consistent, high-performance experience.
Standard or SSD
Standard volumes work well for everyday file system needs, while solid state drive (SSD) volumes deliver even higher performance for databases and I/O-intensive apps.
RESTful API
Use a simple, full-featured RESTful web service interface to provision additional block storage or partition existing block storage across your Cloud Servers.
Persistent Storage
Your storage is yours to keep. If you delete your server, you can attach its associated block storage to another Cloud Server.
Cloud Block Storage Pricing
Save snapshots to Cloud Files at just $0.10/GB/mo£0.0614/GB/moA$0.125/GB/mo€0.0848/GB/mo.
Cloud Block Storage volumes only work with next generation and OnMetal Cloud Servers.
Disk
Standard
$0.12
$0.000164
SSD
$0.50
$0.000684
Estimate Your Monthly Costs
Quickly estimate the cost of your cloud environment. We help you get set up, and we're there whenever you need us - 24x7x365.