Protect & restore Cloud Servers files
Lost files and system failures can paralyze a project. That's why having a contingency plan is crucial.
Cloud Backup safeguards your business by helping to protect the important files your website or application needs. Quickly get back to normal operations by rapidly restoring files after a system failure or file loss.
Starting at

$10/mo/server
Never commit to a long-term contract

Save money
Block-level compression and deduplication reduce storage costs by up to 20x compared to uncompressed backups. After your first backup, additional backups are incremental to lower your total costs.

Save time
Easily create, schedule, and manage file-level backups through our Control Panel or API. Because it's integrated with Cloud Servers on our high-capacity network, protecting files and restoring backups takes just minutes.

Secure your data
Enterprise-grade encryption (AES 256-bit key) helps ensure data is secured with a passphrase known only to you. After creating the key, data is encrypted before it leaves the server, and remains encrypted while stored.
Everything we do is managed cloud. With managed cloud, our experts can run your cloud ops for you, or be there whenever you need help—you choose the level of service you want. When you choose a Managed Operations service level, we'll preinstall Cloud Backup on your servers and configure weekly backups of standard system configuration files (file storage fees apply). We can also restore, monitor, and troubleshoot backup jobs—so your environment is always operating at peak performance. See everything you get with managed cloud.
Pricing is based on your service level
Your bill will vary based on the number of days in the month ($0.33/server per day). Bandwidth charges apply only if Cloud Files data resides in a different data center from your Cloud Server, but we make every effort to store both in the same data center.
| Service Level | Price/Mo |
| --- | --- |
| Managed Infrastructure | $10.00/Mo |
| Managed Operation: SysOps | FREE |
| Managed Operations: DevOps Automation | FREE |
* These products are billed monthly.
Backups are stored using Cloud Files at a rate of

$0.10/GB/mo

.
The flexibility of a hybrid offering with rich cloud services enables us to bring our product to market and innovate faster. The Rackspace infrastructure is an enabler, never a constraint.

— Aaron Rankin, CTO and Co-Founder, Sprout Social
Sign up for a cloud account to get started with Cloud Backup today.
Developer Resources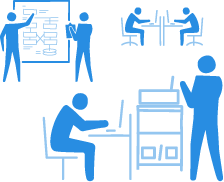 Dig deeper into Cloud Servers with informative blog posts, technical info, and customer success stories.
General Resources
Get instant help and information from blog posts, documentation, white papers, and more.