Managed Service Providers Need to Change the Way They Work With Customers
It's time for managed service providers to start working for customers, not just with them.
As businesses have been forced to embrace remote and now increasingly hybrid working approaches, more have begun to realize the benefits these can offer when it comes to enabling more decentralized workforces, which can help to overcome internal skills gaps. As such, there is an increasing demand from organizations for more distributed, on-demand and specialized talent.
This is especially true in light of the fact that more businesses are embracing a cloud native approach, meaning their teams are increasingly transforming towards DevOps-focused operating models. With DevOps approaches, the boundaries between infrastructure and applications, and "build" and "operate" have become a little blurry. At the same time, large monolithic outsourcing contracts cannot provide the flexibility required for modern cloud adoption, leading to stagnation and inefficient use of cloud technologies.
In response to these trends, organizations realize they need more customized engineering and operations capabilities from their partners.
When vacancies outweigh talent
Not only is technology itself becoming more sophisticated, but businesses have quickly evolved in their digital transformation journeys over the past two years – particularly when it comes to cloud. In fact, there is now an abundance of research to show that digital transformation journeys that would previously have been expected to take a number of years have been completed in a matter of months.
But many of these technologies were implemented in urgency and under pressurized conditions when businesses had little time to think of anything other than how they'd keep the company afloat remotely. So, as organizations' use of these emerging technologies becomes more complex, and more specialized knowledge is required to help implement and run them, it is becoming increasingly difficult for internal IT teams to keep up.
On top of this, many businesses were forced to scale back resources due to the pandemic. Most are now beginning to scale back up and are setting out on huge hiring sprees. But this has left vacancies at an all-time high, and experts suggest businesses could be facing skills shortages for many years to come. For example, it was estimated that 3.5 million cybersecurity jobs went unfilled last year, presenting a huge challenge to organizations migrating to the cloud and driving digital transformation.
Many organizations have been left with smaller teams than they are used to across the entire company. In IT, we've seen smaller IT teams functioning with a broad knowledge of the technology space, but lacking the specialist expertise that is required to enable a cloud native approach.
Although it is harder than ever to find the talent required to fulfill these business needs – especially at short notice – businesses can simply not afford to wait.
Leaning on third parties for support isn't enough
How we all work is going to evolve, and businesses are already learning to embrace their new-found flexibility by implementing variations of the hybrid working approach. But being flexible involves more than just implementing new policies and perks for in-house staff, it's also about embracing the notion of building out internal teams with third-party support.
Businesses need to learn and realize that customers gain the most from cloud technologies when workloads, teams, and processes are transformed to a more cloud native and agile operating model. And working with a third party to reach cloud nativity is going to be vital for businesses going forward. According to a 2021 market research report, nearly 70% of enterprises are reaching out to MSPs to fill cloud IT skill gaps.
However, simply working with a third party alone isn't necessarily enough any longer because traditional managed services can struggle to deliver on customer goals in these environments. This is largely due to an inherent lack of flexibility within agreed scopes of work and contract structures.
That's why it's time for managed service providers to start working for their customers – not just with them. This means offering flexible, on-demand and dedicated support as and when their customers need it throughout their cloud journeys
The future of work is on-demand and flexible
The dedicated customer teams that managed service providers should be creating will become entirely familiar with their partners' and customer' businesses so that they can simply work as an extension of the internal team. Being an external third party without detailed project knowledge is no longer enough.
In doing so, they will be able to help deliver transformative, best-practice-led engineering and operations services. Meanwhile, businesses don't have to worry about lengthy and expensive recruitment drives for specialist skills that can ultimately put their cloud journeys on hold.
So, while hybrid working is a great place to start, flexibility is about so much more than that. It's about a total mindset shift and casting the net for talent much wider than existing and prospective internal talent. The war for talent is bigger than ever, and it's time for businesses to start embracing external, third-party support. In doing so, MSPs also have a big transformation on their hands to become partners that can act as a true extension of their customers' business and their internal teams.
You're Not Alone: The Role of Partners in Your Cloud Journey
About the Authors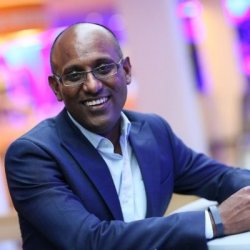 Chief Relationship Officer, EMEA
Mahesh Desai​
As Rackspace Technology™ Chief Relationship Officer for Europe, Middle East and Africa (EMEA) regions, Mahesh leads Application & Data Services, Public Cloud, Partnerships and Marketing. This includes being responsible for strategic alliances and customer relationships across the European portfolio. ​ A strategic thinker and passionate technologist, Mahesh builds high-performance teams that propel reinvention and growth. Throughout his career, Mahesh has unlocked impact and development by empowering consumers and communities. He also takes great pride in championing inclusion and embedding this in the DNA of organisations. Mahesh is a board member of Xynteo, a strategy and leadership consulting firm, it sits at the vanguard of transforming companies to drive a new kind of growth.​ Mahesh joined Rackspace Technology in 2020, bringing over 20 years of experience at global consulting and technology services firms. He has held leadership positions at Infosys, CGI/Logica and Tieto. His focus has been on driving substantial businesses across Europe, USA and Asia as well as across industries including financial services, retail, telecommunications and the public sector.​ ​ Mahesh graduated with an MBA from the Indian Institute of Management, Ahmedabad and a Bachelor's in Computer Engineering from the PSG College of Technology. He is based in London where he lives with his family. 
Read more about Mahesh Desai​