Hiring Our Heroes Boosts Focus on Military Spouse Employment
tracy.hamilton
Hiring Our Heroes, a program of the U.S. Chamber of Commerce Foundation that connects veterans, service members and military spouses with meaningful employment opportunities, announced Friday that it is expanding its popular fellowship program to military spouses.
The news came from Mark Rydell, a general manager with Booz Allen Hamilton who is based in San Antonio, at a Hiring Our Heroes/Joint Base San Antonio Career Summit. Rydell, an Air Force veteran, announced that Booz Allen, would fund the first 100 scholarships for the new program. Twenty-five of those scholarships will be dedicated to San Antonio-area spouses.
The fellowships are much needed, said Eric Eversole, president of Hiring Our Heroes. While veteran unemployment is at a historic low of just over 3 percent, for spouses, who can have a difficult time maintaining a career through far-flung deployments, the rate is closer to 20 percent.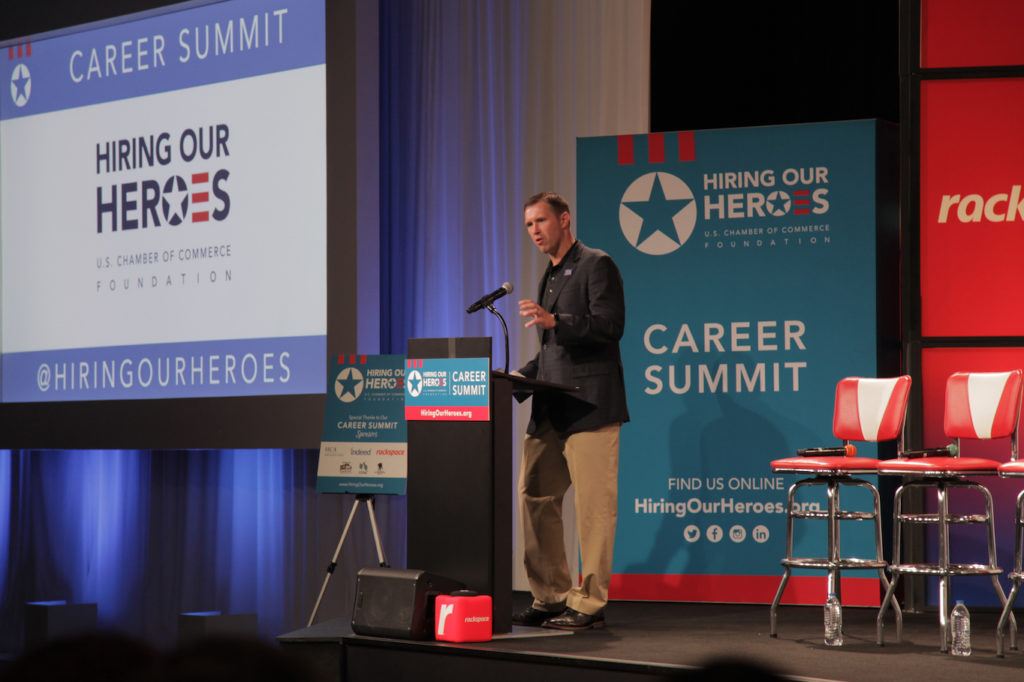 "It's a national crisis," Eversole said from the stage of the Rackspace events center, where day two of the summit was being held. "We've made tremendous progress with vets, but one area where we haven't paid as much attention, and we need to do better, is with military spouses."
HOH's Corporate Fellowship program for transitioning service members offers professional training and hands on experience, in the form of paid internships with companies willing to hire veterans. The new fellowship for spouses is similar, except that the internships will be six weeks long, and will focus on more entry-level and mid-level positions.
"We want to get them in before they move," said Elizabeth O'Brien, senior director for HOH's military spouse program. "We're taking applications through August 29 for this first cohort."
Announcing the scholarships to the more than 400 veterans, transitioning service members and military spouses gathered for the summit, Booz Allen's Rydell challenged fellow companies to chip in. He spoke directly to the roughly 90 companies on site for the career fair portion of the summit.
"Five thousand dollars funds a single fellowship," he said. "We'll be able to sustain this through a community effort."
Co-hosted by Joint Base San Antonio, the event is one of many HOH puts on throughout the year and around the country. USAA has been a sponsor from the program's inception in 2011, Eversole said; additional sponsors include HCA Healthcare, Indeed, Wounded Warrior Project, Troops into Transportation and Randolph Brooks Federal Credit Union, which hosted the first day of the two-day event.
Rackspace hosted day two as part of its ongoing commitment to veterans, service members and military spouses, said Chief People Officer Laura Sue D'Annunzio, who outlined additional ways Rackspace is dedicated to this population, including through its active resource group, RackVET; as an official supporter of Hiring 100K Military Spouses and the HOH Fellowship program, and through Samantha Domingo, Rackspace's dedicated military talent and technical recruiter.
"I'm honored to do this work," said Domingo, who also serves as military spouse resources chair for RackVET. "As a military spouse myself, I personally understand the challenges involved in finding a job and trying to have a career."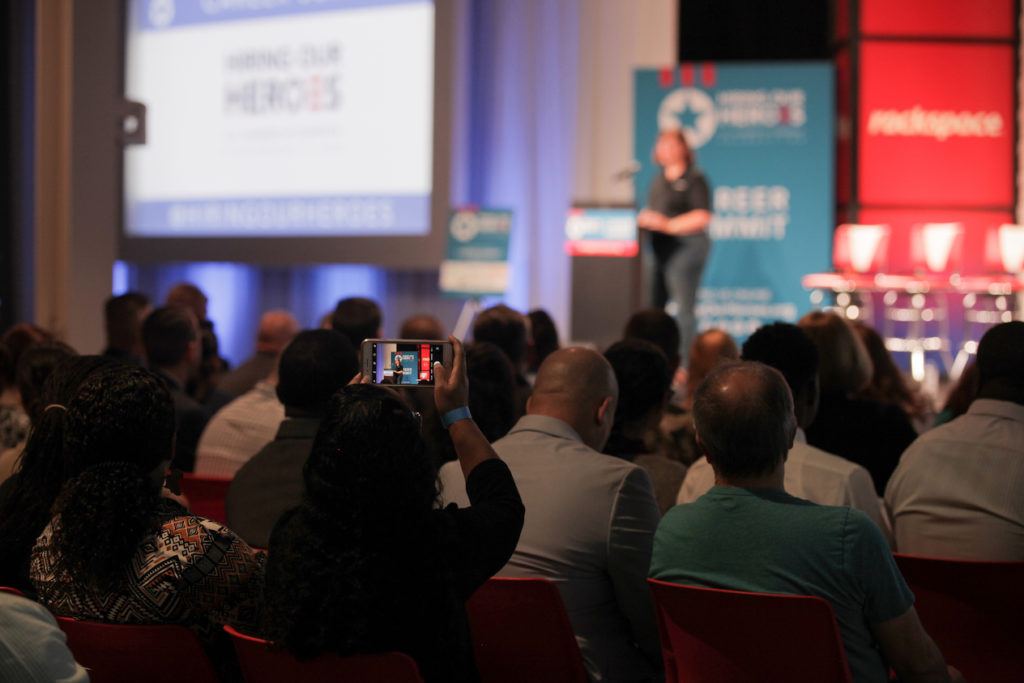 D'Annunzio said Rackspace seeks those "with a passion to serve — and no one knows more about passion than those who have served in our military or military spouses," she said. "At Rackspace we look for agility, and you certainly hone that skill in the military. As you network and mingle, I encourage you to meet some of our Racker veterans and talk to them, learn more about our culture."
[Read more: Rackspace Earns "Best for Vets: Employers for Second Time]
"Network!" was a common rallying cry from presenters, as attendees got the opportunity to meet with hiring managers and HR reps for dozens of national veteran- and military spouse-ready employers, attend career planning workshops, get tips on negotiating pay and benefits and learn about resume building tools and best practices for digital networking.
In 2018, HOH hosted 30 summits around the country that served more than 7,000 job seekers.
The good news is, "if you want a job, you can get a job, said Chuck Hodges, the high energy president of HOH, referencing the current unemployment rate for vets, which is slightly lower than for the civilian population. But he also shared more sobering stats: 40 percent of transitioning service members will need four or more months to find first post military job, and more than half will leave their first post-military job within the first year.
It can be overwhelming, acknowledged Brad Snyder, a Navy veteran blinded in Afghanistan. Now a gold medal-winning swimmer in the Paralympic Games, Snyder is a new member of HOH's Personal Brand Ambassador team.
"How do you do it? One step at a time," he said. "Inevitably, you're going to face a moment where we hit a wall." He suggested having an "anchor thought" that keeps things in perspective. Snyder's is his buddy Tyler, who returned to the U.S. in a flag-draped coffin, killed by a roadside bomb in Iraq.
"When I came back I didn't come back in a coffin," he said. Yes, becoming blind was a huge challenge. "But how selfish to victimize myself when Tyler didn't get to come back at all. Yes, the challenges are big, but if we start from a place of gratitude, and if we can maintain that perspective, there is no challenge too great for you guys."
---
For local vets, service members and family members seeking transition assistance, please contact Joint Base San Antonio's Military and Family Readiness Center.