Which APJ tech trends should leaders be watching in 2021?
Sandeep Bhargava, Managing Director of the Rackspace Technology Asia-Pacific/Japan region, shares four tech predictions for the year ahead.
The world of work and business will never be the same again following efforts over the past year of organizations that have had to rethink who they are, what they do and how they do it. 2020 reshaped many businesses, their priorities and plans for the future.
Despite the hope that we're on the gradual downslope of the COVID-19 pandemic, the tech industry in the APJ region now has a whole new set of unknowns to deal with. Because while 2021 will hopefully look a lot different than 2020, it will certainly look different from any other year in recent memory.
Here are my predictions for 2021's post-COVID tech trends in the region that IT leaders need to keep an eye on.
Familiarity – and necessity – will accelerate adoption of cloud native technologies.
Cloud acceptance and adoption will accelerate for most organizations, regardless of their digitial maturity. Any organizations that weren't fully leveraging the cloud pre-pandemic quickly shook off their concerns and dived in with both feet in 2020. And organizations that had already embraced the cloud rapidly scaled their consumption upward and outward.
Now that crisis mode has given way to business as usual, both groups will soon find themselves turning their attention to using the cloud at scale in more measured and strategic ways given the successes they initially experienced. That means refactoring processes and applications to better leverage cloud native technologies, in order to maximize agility while keeping costs under control.
Overall, after more than a decade of chipping away at traditional IT infrastructures, cloud's moment is finally here, and there will be no looking back. The only thing that can stop it now is widespread service disruptions or security issues. And given its stellar performance in 2020, these factors seem unlikely to derail its progress in 2021 and beyond.
Work from home will force new thinking and new service innovation
In the short-term, work from home orders will remain in place as the pandemic drags on for millions of people around the world. But there is ample evidence that high levels of remote working will remain for the long-term, and perhaps indefinitely, as the whole enterprise ecosystem has become comfortable with the new setup.
It's hard to understate the headaches this will create for commercial real estate owners. But on the positive side, we can expect it to prompt the creation of a whole new set of services, products and technologies to cater to this new way of working. Great things will happen when tech's clever minds get to work on taking the grind and isolation out of working from home. And embracing these solutions, whatever they turn out to be, will become a key differentiator for talent recruitment.
This culture shift will also be a chance for enterprises to finally get smart about how they monitor productivity, swapping hours spent in the office for output when it comes to measuring performance.
Automation to the rescue
The challenges and practicalities around social distancing and staying at home revealed new angles and opportunities for automation in 2020. For example, beyond conventional use cases related to process efficiencies, automation also offers a way to insulate society against another pandemic or similar event in which it's unsafe for physical human presence at work.
Here's a case in point. Workers in critical sectors such as energy or food processing and distribution have taken great risks so that we can keep the lights on and food in the fridge. But despite these efforts, many crops still went to waste in 2020 because manual processes were disrupted as restrictions on cross-border movement saw traditional labor sources dry up.
Farmers can't work from home, but robots don't get sick, so we urgently need to renew efforts to create robotic solutions that can harvest crops without damaging them. This is a challenge now that will only grow in the future. The UN has predicted that the global population will reach 9.8 billion by 2050 – that's a lot of mouths to feed.
Our region is already a major adopter of "intelligent automation" from banking, financial services, manufacturing, healthcare and logistics. Many of these industries lend themselves well to remote working, but others such as hospitality and travel have suffered terribly during the COVID-19 crisis. Could investments in greater automation and robotization help protect those industries from future shocks? Almost certainly. But for now, they'll have other things on their minds.
Flexibility will be more important than ever as vaccination programs ramp up
As COVID-19 vaccination programs start to scale up, the pent-up demand for in-person experiences and socializing will gradually be released. To meet this demand while mitigating the risks of enduring uncertainty, companies that have scaled down operations will need to scale up very quickly, then adjust as demand evens out. The cloud naturally offers this flexibility, and a sound strategy will allow these organizations to scale up again while maintaining the flexibility to quickly throw things into reverse if needed.
Consumer confidence is unlikely to rebound immediately, however. They will expect organizations to continue to maintain and improve COVID-safe procedures – and they'll vote for the winners with their feet and their wallets. Technology will be crucial to making these measures part of daily operations without unduly increasing overheads and eroding margins.
Cut Straight to the Tech Trends That Matter
About the Authors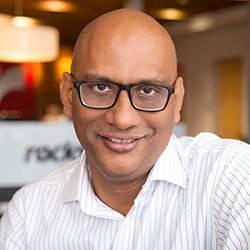 SVP, Managing Director, Asia Pacific and Japan
Sandeep Bhargava
Sandeep is the Managing Director of Asia Pacific/Japan (APJ) at Rackspace Technology®. Based in Singapore, Sandeep is responsible for business growth across the region and establishing strong local teams that deliver Fanatical Experience™. Passionate about customer success, he joined Rackspace Technology with over two decades of experience delivering financial and operational results throughout the region. Before joining the company, Sandeep was responsible for the graphic print operation across APJ for Hewlett-Packard. He has also served in various leadership roles with Hewlett Packard Enterprise, Dell EMC and Procter & Gamble. Sandeep holds an MBA in Marketing/Marketing Management from the Indian Institute of Management in Lucknow, and a Bachelor of Engineering degree from Delhi College of Engineering.
Read more about Sandeep Bhargava