Government Public Cloud Hosting Services
Turn-Key Government Public Cloud Solutions
Simplicity without compromise. Rackspace provides seamless, integrated and secure operations for your entire cloud portfolio, across AWS, Azure and Google Cloud Platform, all accessible through a single pane of glass and a single invoice.
We are a web-scale Managed Service Provider (MSP), delivering 24x7x365 hybrid-cloud management, operational support and security services as a packaged, on-demand, audited and pay-as-you-go service. You get the same commercial services that power the Fortune 100, in a compliance-ready state, with the additional security controls and governance that make your mission unique.
Why Use Our Government Public Cloud Solution?
Expertise
In 2017, Gartner positioned us as a Leader in the Magic Quadrant for Public Cloud MSPs based on our ability to successfully deliver high-quality managed services that help our customers maximize the capabilities of the cloud.
Microsoft
We were the first managed service provider to directly manage Microsoft® Azure® workloads, and we became an Azure Premier Partner in 2014.
AWS
We were the first partner to be accepted into the AWS Managed Service Provider Program, have earned AWS Public Sector Partner status and are one of four organizations to manage an AWS Center of Excellence.
Google Cloud Platform
We were the first premier managed services partner for the Google Cloud Platform (GCP) and were the first to provide Customer Reliability Engineering (CRE) support outside of Google's walls.
Managed Services
Layer our suite of managed services on top of your government cloud or a public cloud solution such as Azure or AWS to help provide reliable uptime and performance for your government services.
Our standard and optional management services are backed by a team of certified professionals with two decades of successful federal experience, and include the following:
System design and implementation
Network and hardware configuration
Performance monitoring and optimization
Operating system maintenance and support
Resource provisioning and load balancing
Data backup, replication and recovery
Customizable security and compliance assistance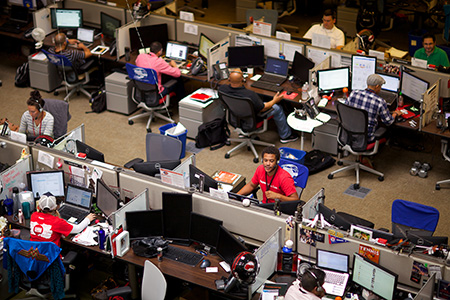 Compliant Solutions
To help you meet FedRAMP, FISMA and organization-specific security requirements, we provide end-to-end management and security from the network component layer — built to DISA Security Technical Implementation Guide (STIG) standards — through to the operating system. And with Rackspace managing at least 80% of the controls within your environment, you are better positioned to receive a federal authorization to operate (ATO).
Our government public cloud offering supports agency-specific security and FISMA/FedRAMP Moderate/High, CJIS, HIPAA, NIST SP 800-53, NIST SP 800-171 ("DFARS") requirements.
Managed PaaS
In support of the FedRAMP / FISMA System Security Plan, we provide the following:
Documentation and Audit Support
Host-Based IDS
Log Consolidation and Analysis
Session Recording
STIG and CIS Hardening (Firewalls / Switches / Servers)
OS Licensing
Antivirus
Real-Time Performance Monitoring
OS Patching
Multi-Factor Authentication
Vulnerability Scanning and Remediation
OS Administration
File Integrity Monitoring
Managed Backups
Managed IaaS
Infrastructure Monitoring
Managed Connectivity
Network Intrusion Detection
Network and Infrastructure Patching
IaaS
Hypervisor
Compute and Storage
Hardware Provisioning Administration
Network
Facility
Rackspace Government Public Cloud Features
FedRAMP & FISMA Compliant
Our government cloud platform meets or exceeds federal requirements, and the operating system running on top of our infrastructure inherits this compliance.
Audit-Ready
We leverage AWS and Azure controls to provide annual audit support and audit-ready authorization at the operating system level of your virtual machines.
Monitoring & Reporting
We use both automated and standardized processes to provide monitoring, artifact creation and archiving. We also provide monthly reports.
24x7x365 Support
We'll maintain and support your virtual machines, plus provide advanced monitoring, managed security and governance for your government cloud solution.
Guaranteed Availability
We offer industry-leading guarantees related to network uptime, service availability and response times per mission-owner-negotiated SLAs.
Hybrid Cloud Connectivity
We can connect your government cloud to other clouds and create a true hybrid cloud environment using Amazon Direct Connect™ or Azure ExpressRoute®.