Google Cloud Names Rackspace its 2018 Migration Partner of the Year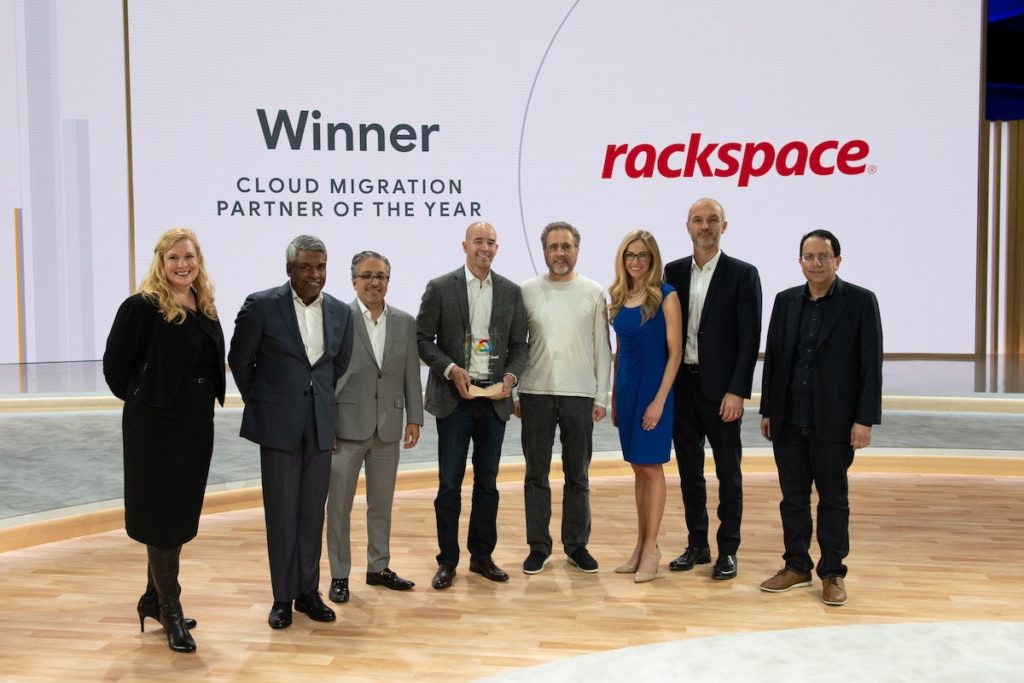 We are thrilled that Google Cloud has named Rackspace its 2018 Global Migration Partner of the Year during last night's awards ceremony at Next '19, Google Cloud's annual flagship conference, held in San Francisco.
Rackspace SVP & GM of Cloud and Infrastructure Services Prashanth Chandrasekar called the recognition "just the latest validation of Rackspace's disruptive, integrated and flexible approach to delivering next-generation cloud services that span the full spectrum of the cloud journey — from navigation to operations to optimisation.
Just last month, Gartner placed Rackspace in the Leaders quadrant of Gartner's Magic Quadrant for Public Cloud Infrastructure Professional and Managed Services — for the third year in a row."
"We're thrilled to recognise Rackspace as the 2018 Global Migration Partner of the Year," said Carolee Gearhart, Vice President, Worldwide Channel Sales at Google Cloud.  "Rackspace has proven its expertise in Google Cloud and has demonstrated its commitment to customer success over the past year. We're excited to keep building on our partnership with Rackspace as more and more customers look to our ecosystem to help them succeed in the cloud."
Google Cloud cited our work for mutual customer Eagle Eye, a UK-based digital marketing platform, which enables retailers and brands to use promotions, loyalty and rewards to establish relevant and meaningful connections with customers.
Eagle Eye was experiencing tremendous growth, yet it was struggling under limiting factors with its existing infrastructure. Rackspace recommended Eagle Eye move to Google Cloud Platform, to take advantage of its scalability, agility and competitive pricing.
Before a full-scale deployment into Google Cloud, however, Rackspace provided a proof of concept environment, allowing Eagle Eye to trial its application. It was a success — the company saw a 3x increase on throughput compared to its existing dedicated environment.
Rackspace completed Eagle Eye's full migration to Google Cloud, and today, the company can process up to up to 3,000 API requests per second, scaling to manage a 556 percent increase in the number of coupons redeemed during the past financial year — 403 million across the globe, according to Eagle Eye founder and CTO Steve Rothwell.
"And Rackspace has been fundamentally key to that growth," he said. Without partners like Rackspace and Google, he continued, "we'd have probably spent years trying to work out how to build that infrastructure, to create that effect."
As one of Google Cloud's first Premier Managed Services Partner, we help customers migrate applications running on legacy environments to Google Cloud to realise the many benefits of the platform. We employ hundreds of GCP-certified engineers who have a combined 2.5 million hours of support and operation. We offer expert guidance on how to architect, plan and operate Google Cloud environments at scale.
Learn more about our work with Eagle Eye by watching the video below, or read the full case study.
If you're attending Next '19 and would like more information about how Rackspace can help accelerate the value of Google Cloud Platform for your organisation, we invite you stop by booth S1319 and speak to our experts.
Also, check out the presentation by Rackspace Reliability Engineer Thomas Bottrill, "How to run highly available Microsoft SQL Server in Google Cloud" (session #DBS204) on Thurs., April 11. ____________________________________________________________________________________ Learn how Rackspace can accelerate the value of cloud today.
Public Relations
Industry Analyst Relations
Newsroom Links