Take a Tour of Our Office
15 minutes away from Central London, one of the most exciting and diverse cities in the world, 20 minutes from Heathrow Airport, known for connecting people non stop and 25 minutes away from the famous Windsor Castle where you may spot the Queen feeding her corgis; stands a building harbouring some of the most fanatical technical specialists in the world! Welcome To Rackspace UK.
Being the first cloud company to open in a historical industrial estate in Hayes rose a few eyebrows. Hayes isn't a location known for its tech companies but we thought it would be cool to be the ones to change that perception and do what we do best, stand out rather than fit in.
Technology is ever evolving and we've realized that in order to shape the future we must have a hand in it. Over the past few years Rackspace has been involved in some major game-changing moves, invested in new innovative technologies and more importantly invested in Rackers to help deliver a world-class service second to none!
%
Of 1,200+ International Rackers work out of the Hayes Office
%
Of over 100,000 servers in 10 global data centers securely house customer data
A Culture That Can't Be Beat!
---
At the Cutting Edge of Technology
---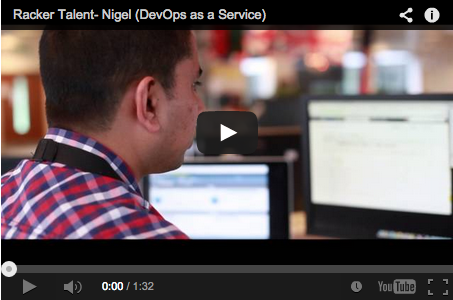 Rackspace provides a fantastic product set for our clients and promises to assist them no matter what their business needs. In order to continue evolving as a company, we are constantly researching new technologies as this is one of our real passions! Rackspace partnering up with NASA to create Openstack was a major win for Rackspace not only because of what it has potentially achieved but because of what it has done for the tech community on a whole. We have also started working within the DevOps space and our passion for creative ways of doing things means we are constantly trying to evolve. The more efficient we are the better service we can provide to our clients. No matter what department our technical specialists work in at Rackspace they will definitely be exposed to cutting edge technology or may even be the ones behind creating it!
Nigel Beighton
VP of Technology and Product, International
Where Specialists Are Made
---
We didn't invest in a new state of the art campus to stand alongside our Rackspace University to look pretty. We invested in one because we get a kick out of making sure our staff feels supported and fully equipped to be the best specialist they can be! We have an in-house Talent and Development department that provides Rackers with advice on internal and external courses as well as works closely with them to establish their personal development plans. Feel free to take a look and see where our specialists sharpen their swords.
Don't Just Take Our Word For It…
---