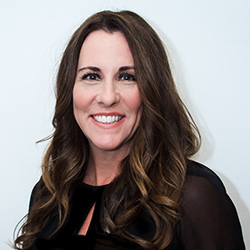 Casey Shilling
Director General de Marketing
Rackspace Technology
Como directora de marketing de Rackspace Technology®, Casey se desempeña como una profesional del marketing visionaria que lidera con un enfoque centrado en los clientes, impulsado por datos y basado en resultados en lo que respecta a la creación de marca, las comunicaciones, la generación de demanda y el marketing de productos y soluciones.Es una líder de marketing versátil y emprendedora que inspira entusiasmo, dedicación y alto rendimiento.Cree que una marca crece desde adentro hacia afuera, motivada por una cultura divertida, apasionada y nutrida, y a través de una comunicación clara y compasiva.
Casey tiene una larga trayectoria relacionada con el crecimiento de marcas y el desarrollo de culturas sólidas en el lugar de trabajo. Antes de trabajar en Rackspace Technology, Casey fue directora de marketing en J. Hilburn, una lujosa empresa de ropa para hombres. Antes de eso, se desempeñó como directora de marketing en el grupo de restaurantes casuales de comida rápida mediterránea Zoës Kitchen y como VP de Marketing en The Container Store, el principal minorista de productos de almacenamiento y organización.
Casey comenzó su carrera como periodista y presentadora de televisión cubriendo las noticias en el sureste de Oklahoma y en el norte de Texas. Casey es coautora de "Uncontainable: How Passion, Commitment, and Conscious Capitalism Built a Business Where Everyone Thrives", que escribió junto a Kip Tindell, fundador y anterior CEO de The Container Store. Recibió su título de licenciada de la Southwest Texas University (ahora Texas State University) y, en 2018, fue distinguida con el premio Power 50 otorgado por el Consejo Nacional de Diversidad, y fue nombrada Power Player por Nation's Restaurant News.
Casey disfruta de pasar tiempo con su esposo y sus cuatro hijos, de viajar y de buscar grandes joyas de la gastronomía con amigos y familiares.