IT Solutions for Financial Services Providers
More than ever before, financial services organizations need a trusted digital transformation partner. They need help tackling the challenges of migrating to and leveraging cloud-based infrastructures, managing existing IT assets, evolving their microservices architectures, improving their DevOps agility and monetizing APIs — and they need to deliver all of this, while reducing IT expense.
Let our experts help with every step, from planning and migration, to security and operational support. We can get you to the cloud, help you optimize, and keep you current with ongoing adoption of emerging technologies.
Compliance and Certifications
Addressing IT Challenges Across the Financial Services Industry
Banking
---
Let our experts help you migrate to the right cloud at the right time, while providing the white-glove support you need to meet growing regulatory overhead and increased consumer demands.
Investment Firms
---
Get access to the highly performant, on-demand processing you need to maximize data algorithms and stay ahead of the competition.
Insurance
---
With our experts managing your noncore systems, your teams are free to focus on innovative new offerings, improved customer experience and enhanced service delivery models.
FinTech
---
Continue to focus on innovative and agile delivery, knowing your systems and applications are hosted in a secure, compliant and highly scalable environment.
Expertise for Your Digital Transformation
Secure Sensitive Data
We take security seriously. As a leading Managed Security Services Provider, we offer proactive monitoring and threat detection, as well as response and remediation services.
Let our experts help upgrade your security strategy — across AWS, VMware®, Microsoft Azure®, Microsoft HyperV® and traditional dedicated environments — and protect your business from cyberattacks.
Get the Expertise You Need, Across Technologies
Many financial services organizations find themselves struggling with the expertise required to build cloud migration strategies that comply with rigorous regulatory demands. But they also recognize that in order to keep up with customer expectations, cloud expansion is a necessity.
To innovate, they need to incorporate the latest technologies into to their IT planning, but professionals with these unique skills — such as AI, blockchain, cloud security and data science — are even more difficult to hire and retain.
By turning to Rackspace, you'll have a team of experts working alongside you to help you navigate, operate, and optimize – for an end-to-end transformation that enables you to deliver the innovations your customers expect.
Reduce Infrastructure Capital Expenditures
Due to massive investments in legacy infrastructure, financial services organizations often struggle with the idea of a concurrent opex and capex model.
Rackspace can help you work through budget constraints. We'll work with you to create a plan to streamline your existing data center footprint, ramp up to the cloud over time, and take advantage today of the benefits of a multiple cloud strategy. You need the right cloud, at the right time, and we can help you achieve it. Let us work with you on a plan that meets your budgetary needs.
Modernize Your Financial Services
Consumers today demand an omnichannel experience. They require streamlined mobile applications, personalized user experiences and consistent access to their accounts. Multiple data stores, complex integrations and brittle technologies make it difficult for your IT to plan for, migrate to and operate in a new environment.
Turn to our experts for help. Whether you need an all-encompassing strategy with around-the-clock white-glove support, security, compliance assistance, workload optimization and data management, or piece-by-piece quick wins with rapid ROI, we have solutions tailored for financial services organizations like yours. Let us build you the services you need today, to meet your customer demands of tomorrow.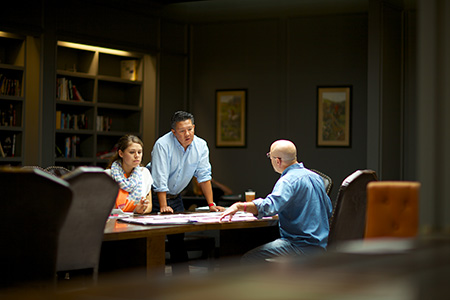 Maintain Compliance
The financial services industry is highly regulated in order to protect consumers and maintain the integrity of the financial ecosystem. But this regulation can impose severe burdens on the IT and Risk staffs of financial institutions. At Rackspace, compliance and data protection are foundational. Our experts can help ease the load of maintaining vital compliance adherence and can coach your teams as new regulations emerge.
Our dedicated hosting environment is PCI DSS certified to help you safeguard sensitive customer data and meet compliance requirements for financial services, while helping to ensure your apps remain available to authorized users. It's backed by our 100% Network Uptime Guarantee and industry-leading SLAs. Plus, with Rackspace Privacy and Data Protection, you can encrypt and restrict access to confidential financial data. Our SOC reports can be found here.
Let our team help you achieve compliance for your Rackspace-supported cloud — across AWS, VMware®, Microsoft Azure®, Microsoft HyperV® and traditional dedicated environments.
Customize a Solution
While companies that offer financial services may face similar challenges, your specific business requirements can differ substantially based on several factors, including:
The number and type of financial services you provide
Whether you offer your services regionally, nationally or globally
The demographics of your current — and expanding — customer base
We'll work with you to understand your unique requirements and design a best-fit solution that meets them — with the flexibility to change and scale with you.

"One of the key reasons that we went with Rackspace in the first place was we were looking for something that we could scale seamlessly — with a bank and service culture that we could align with."
DAVID YOUNG
CTO
Get the Right Solutions, at the Right Time
Rackspace combines decades of hosting experience, expert guidance and a deep understanding of the security, performance and scaling needs of the financial services industry to deliver multi-cloud and hybrid solutions.
Unbiased Expertise
Lean on our experts for a point of view based on experience, not bias, to serve your unique
needs.
Lean on our experts for a point of view based on experience, not bias, to serve your unique
needs.
Lean on our experts for a point of view based on experience, not bias, to serve your unique needs.
Unrivaled Portfolio
Let us manage your chosen technologies for you — across applications, data, security and infrastructure.
Fanatical Experience
Benefit from our proactive, results-obsessed approach to your digital transformation.
Agile Delivery
Get IT the way you want it: as a service, with pay-as-you-go billing and seamless, easy adoption.
A Full Range of Solutions for Your Financial Services Organization