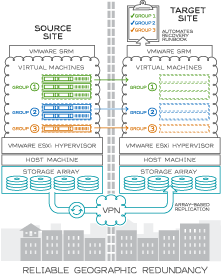 Add Automation to Your Disaster Recovery Plan
Simplify and automate parts of your DR plan. The Rackspace Replication Manager service uses VMware® Site Recovery Manager™ (SRM) and works in concert with Rackspace Array-based Replication to deliver fast, reliable recovery of the apps your business relies on for its operations.
Resiliency solutions often require you to manually recover your data, making for an unreliable, time-consuming, and complex recovery process. Replication Manager helps ensure fast, reliable recovery thanks to automated processes. It automates the failover of your Rackspace-hosted VMs to your secondary site and also enables non-disruptive failover testing.
Learn how Replication Manager works with our Array-based Replication solution