Advanced Security Solutions
The Alert Logic Threat Management™ system monitors your Rackspace environment, detecting external and internal threats. When it detects an incident, Alert Logic's ActiveWatch service provides expert guidance from its security operations center (SOC), staffed round the clock by Alert Logic security analysts. Integrated vulnerability scanning helps you identify possible points of entry and correct them, and assists you with meeting regulatory compliance requirements.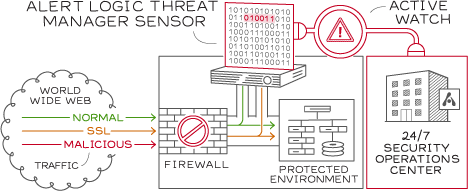 The Alert Logic Log Manager™ automatically aggregates, normalizes, and stores log data from your environment—simplifying log searches, forensic analysis, and report creation through real-time or scheduled analysis. LogReview, a service enhancement to Log Manager, provides daily event log monitoring and review by a team of Alert Logic security professionals.