HIPAA Compliance Management for Healthcare Organizations and Solution Providers
The Health Insurance Portability and Accountability Act (HIPAA), passed by the U.S. Congress in 1996, is designed to make health-related information easier to share between providers. It encourages the use of electronic medical records, while providing security and privacy standards for handling Protected Health Information (PHI).
All companies that store or transmit PHI are required to comply with HIPAA — from health care and health plan providers, to those providing services that handle PHI, such as cloud hosting providers.
Address Your HIPAA Compliance Requirements
At Rackspace, we offer a wide range of HIPAA-compliant hosting solutions, across managed public, private and hybrid cloud environments. Our HITECH and HITRUST™ CSF certifications confirm we meet these levels of data and privacy standards.
And if your organization needs guidance as you approach your own HIPAA compliance journey, our specialists are here to help. We'll work with you to design an approach that addresses your specific business needs.
Additionally, we offer a Business Associate Agreement (BAA) with all of our dedicated hosting services — an essential element for healthcare organizations pursing a HIPAA compliance audit.
End-to-End HIPAA Compliance Solutions
Compliance Design
Our trained experts work with you to design and implement an ideal approach to HIPAA compliance tailored for your business needs. We also conduct regular reviews of your managed cloud or dedicated hosting environment to help you optimize performance and address ongoing compliance.
24x7x365 Monitoring
We deliver around-the-clock monitoring for your environment, along with first-responder issue escalation in the event of abnormal or suspicious activity.
Server Management
We can handle all aspects of server management, from anti-virus and anti-malware remediation and log analysis, to host-vulnerability scanning.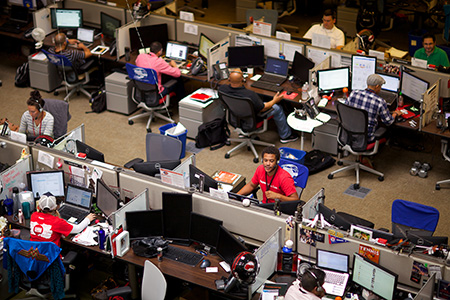 Database Management
We can actively monitor and manage your database, delivering data backup, capacity planning, account audits and change management documentation.
Network Administration
In addition to performance monitoring, change management and configuration backups, we provide audit support, security scanning of network devices and two-factor authentication support. This is designed to help keep your network safe, compliant and running efficiently.