From 'Day 1' to Ongoing Optimization: Building a Multi-Layered Security Strategy on AWS
gerardbrossard
The average cost of a data breach was almost $4 million in 2018.
Given today's advanced threat landscape, smart organizations know they must make the security of their digital environments a top priority and the financial risks of not doing so continue to increase.
But the landscape is not all grim. While companies are facing new challenges as they work to secure their IT environments, they're also finding opportunities as they modernize their IT using cloud technologies.
One such customer is Santikos, a 106-year-old regional theater chain based in San Antonio, TX. Santikos needed a technology partner to help advance its capabilities to continue delivering exceptional movie-going experiences for a growing audience — including deployment of a secure, PCI-compliant, ready-to-scale online ticketing system on AWS.
https://youtu.be/cpmse4sPWB4
Said Scott Iden, Santikos' CIO, "We live in a world where there are hackings and attacks and we really needed to step up the security aspects of our website to help protect against the influence that can have on that guest experience. Rackspace Managed Security was key for us to meet our goals."
The three biggest concerns we hear from cloud customers like Santikos, who are seeking a more robust digital security posture are:
choosing the right cloud to optimize applications for security, performance and reliability
finding the expertise to build and manage an IT environment that meets security and compliance criteria, and
being able to afford that expertise.
Many companies moving to the cloud assume that security is baked in, and they are partially right. Take AWS:  it's a secure infrastructure platform, but the workloads users build and run on top of AWS must also be secure — and right now, that security is the responsibility of the customer. But you don't have to go it alone.
Rackspace can help.
Last year, we redefined how we provide managed cloud services by introducing Rackspace Service Blocks, which allowed our customers to consume the services they need, when they need them, without paying for the ones they don't. We developed Service Blocks because every organization has unique cloud challenges, with varying and complex needs that often shift and change as they navigate their journey to the cloud. Our customers needed a high degree of flexibility and customization in cloud services, so that's what we delivered.
Since then, based on customer feedback, we've refined and expanded our Service Block offerings. And when we asked customers what additional services they'd like to see offered in this modular fashion, security — no surprise — was a top request. So, we asked our experts to develop a Service Block solution to address security at every stage of the cloud journey.
Today we're announcing our first new set of security-focused Service Blocks, for customers who use Amazon Web Services. These new security-focused Service Blocks allow you to choose the level of support you need to secure your AWS workloads across the following services: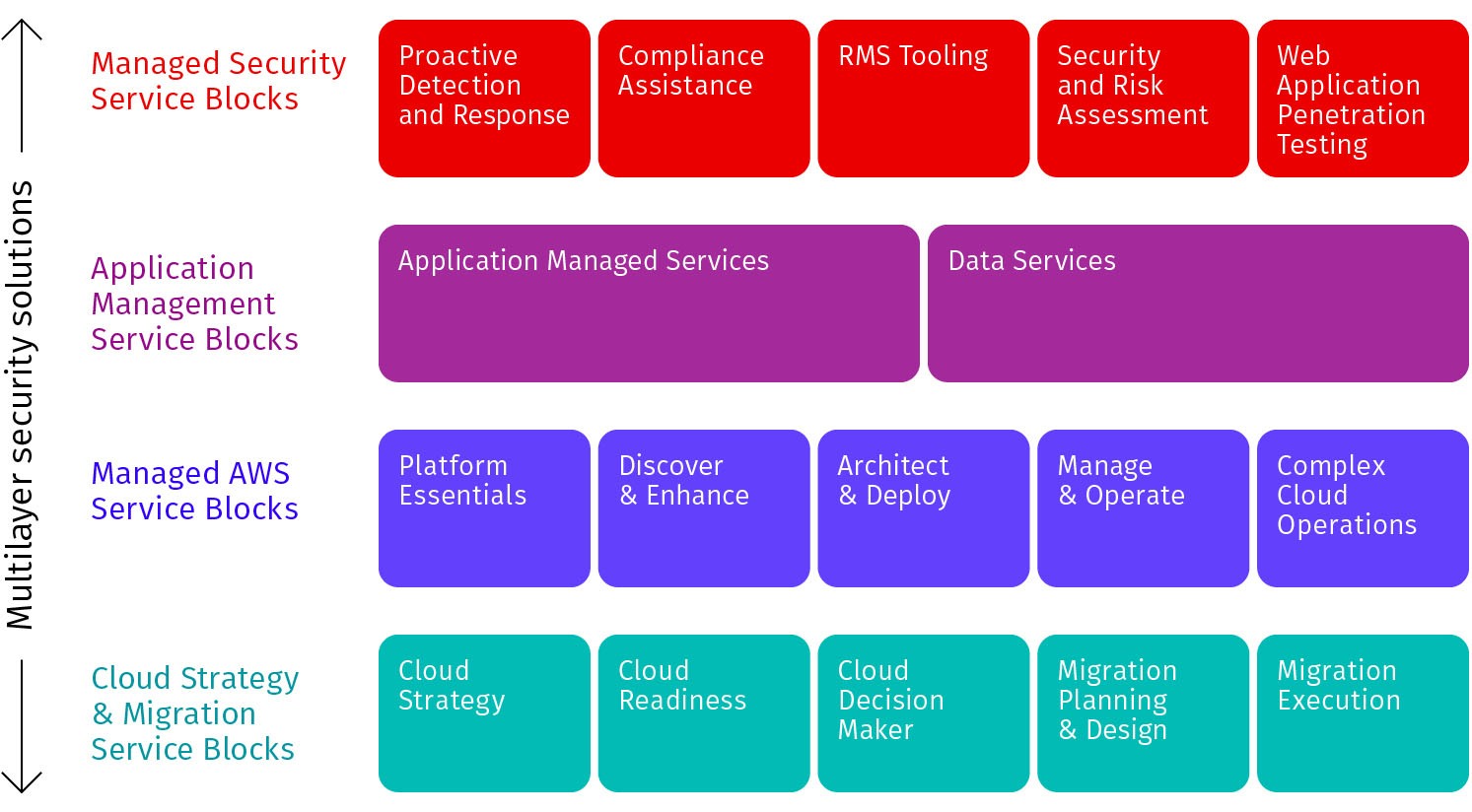 Rackspace Service Blocks for AWS enable businesses to address cloud security throughout the entire cloud journey:
Addressing security on Day 1: It's critical to include your organization's particular security and compliance requirements when mapping out your cloud strategy. This should be considered when choosing the right platform for your applications and business objectives, designing applications to be secure and successfully building and/or migrating applications in accordance with AWS best practices. With Cloud Strategy and Migration Service Blocks, our experts assess business processes, develop the cloud strategy to optimize those business processes and address your business and IT transformation goals, and successfully migrate workloads to the cloud with our customers' business-specific security and compliance requirements in mind from day one.
Ongoing management to optimize for performance and security: Once you're up and running on AWS, ongoing monitoring and management at the infrastructure and application levels will enable you get the most out of your investment, decrease risk and optimize your applications and databases for performance and cost. Depending on the level of support desired, customers can choose from AWS Infrastructure Management Service Blocks or Application Management Service Blocks to help address these concerns.
Remaining proactive: Don't just sit back and wait for a breach — cut hackers off before a breach occurs. Enlist a team of security experts to thoroughly assess your environment, evaluate your vulnerabilities, pre-define remediation actions, and determine the best solutions to meet the security and compliance needs of your business. Managed Security Service Blocks offer this, through advanced security testing, risk assessments, and managed detection and response services backed by a 24x7 Customer Security Operations Center.
While our suite of security-focused Service Blocks for AWS is new, Rackspace's commitment to security is not; thousands of customers rely on our security expertise.
No matter where your company is on its cloud journey — running existing applications on AWS, designing new applications or migrating legacy applications, Service Blocks for AWS enable any organization to build a customized security solution made up of integrated tools and services, backed by the expertise necessary to ensure your AWS workloads are secure, compliant and optimized.
Learn more about how Rackspace Service Blocks for AWS can help your organization build exactly the cloud security strategy it needs.