29 New Names, Plus a New Tradition for Veteran's Day at Rackspace
emilyelliot
Twenty-nine new names were added to the Veterans' Wall at Rackspace headquarters in San Antonio Friday during our annual Veteran's Day tribute.
Rackspace has for many years made hiring and supporting veterans a priority. This year the company was named to the Military Times "Best for Vets: Employers 2017 list, which recognizes companies that provide cultures, recruiting practices and policies that support and consider America's military veterans, including members of the National Guard and reserves.
Friday's ceremony, organized by RackVET, the Rackspace resource group for veterans, began with the flag presentation by the Roosevelt High School Junior ROTC. Hajar Moshirsadri, a Rackspace account manager who recently earned a top spot in our annual "Rackers Got Talent" show, sang the national anthem.
Chuck Rodriguez, a security risk and compliance management specialist who served as the 49th Adjutant General of Texas, recounted how difficult the unpredictability of serving can be for both veterans and their family members.
"I've been overseas, and there's a lot of worry that takes place back at home. Sometimes you would get a little nervous, but you have your buddies there; it's even harder to be family member. I know this myself — my dad went to Korea and Vietnam. It was really, really harder when he went away."
Rodriguez described taking two of his grandchildren to a reenactment of Pearl Harbor; when he asked his granddaughter how the event made her feel, she responded that she was glad it was "only for pretend." This stuck with Rodriguez, he said, as it made him realize that Veteran's Day is a time for thanks, as well as a recommitment to stand tall.
Rackspace Chief Security Officer Brian Kelly, who rose to the rank of lieutenant colonel in the Air Force, leading teams involved in satellite surveillance, cyber security, cyber warfare and management of highly sensitive operations around the globe, then announced that 29 new names of Rackspace employees who have served would be added to the Veteran's Wall.
"It's been said that any nation that forgets its veterans ceases to be a great nation," Kelly told the assembled crowd in front of the wall. "Our celebration today demonstrates that the American people in this nation will never forget our veterans and their families. Let's renew our national promise to fulfill our sacred obligation to our veterans, their families who have sacrificed so that we can serve and that we can all live free."
Kelly then introduced his former comrade and the event's guest speaker: Major General John Nichols, currently serving as the 51st Adjutant General of Texas. Nichols spoke highly of the effect veterans can have in the workplace, and noted that three Rackers will be deployed within the next year.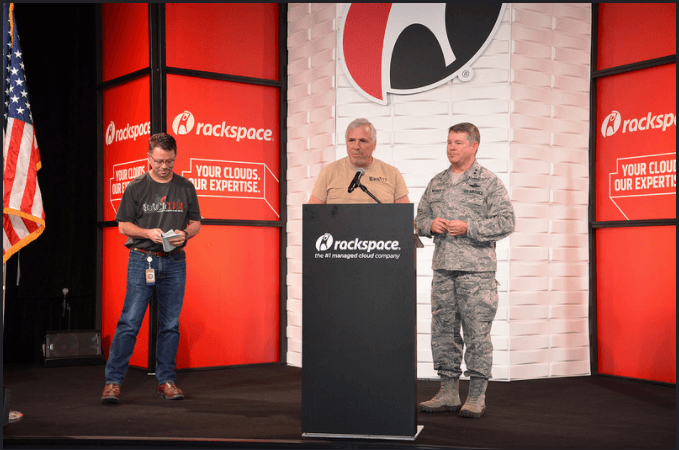 "Veterans bring something special to an organization," he said. "Diversity, a new way of looking at things, rigidity, an outside-looking-in perspective. When you put that all together, you have a great company."
He also emphasized how important it is that veterans feel a sense of security in their support systems while serving in locations across the globe.
"Our employers make sacrifices — I can go forward and serve, and my family, my friends, and my employers have my back, and my employers will bring me back when I serve. If we can't feel secure enough to protect America from afar, then we wouldn't be America."
Nichols described the value of the support Rackspace provides its veterans.
"Sometimes the government doesn't treat us as well as civilian companies, but Rackspace puts their arms around them . . . if we don't have infrastructure or companies like Rackspace having our back, then we won't serve."
The RackVets group works to make Rackspace a supportive place to work for military veterans, reservists, guard members, family members and supporters through activities that educate, advocate and celebrate. As vets themselves, they understand transitioning out of the military and into civilian life can be daunting.
Steve Miller, chairman of RackVET and a manager of Infrastructure Change Management at Rackspace, said the group spent weeks collecting and verifying data after the Military Times issued an invitation to submit.
"I think we've been earning this for a long time," Miller said during an event to celebrate earning a spot on the list, which also doubled as a goodbye to former CEO Taylor Rhodes, who served as a Marine. As part of the process to submit, Miller said RackVET unearthed awards and other accolades that had been lost. They also looked for ways to include information that wasn't part of the official data request, such as care packages and letters to reservists and those on active duty.
Nichols wrapped up by acknowledging the appreciation and thankfulness he receives from those he has assisted.
"When you get to look a fellow citizen in the eye knowing you've helped them, it's the most gratifying thing you can do, and it's why we come back to serve. We'll be there again, and with more people who want to join."
RackVET's Miller then presented Nichols with a RackVet challenge coin, then revealed a new tradition to the Veteran's Day ceremony, which would begin with Nichols: honoring that year's guest speaker as an honorary Racker veteran by adding their own plaque to the Veteran's Wall.