Delivering Better Customer Experiences During and After COVID-19
COVID-19 has changed how organizations of all types and sizes can and should focus on optimizing customer experiences moving forward.
The advent of COVID-19 has changed how organizations conduct business in many ways, including how we deliver customer experiences. It's also changed expectations.
Although customer experience was top-of-mind within many organizations before the coronavirus crisis materialized, in many ways, customer experience is even more important now as we all deal with the ramifications of this world-changing event. In the long-term, the customer experience that organizations deliver today could become the most critical factor in their survival because, in these times of heightened need, customers will remember those companies that came through for them — and those that didn't.
...customers will remember those companies that came through for them — and those that didn't.
Today's new normal also comes with new demands, because customers have new needs and challenges. Delivering fanatical customer experiences requires asking ourselves: What are they asking for? What do our customers want now? Then digging deep to respond and deliver what they need. This also requires that all of the necessary systems and processes are in place to help us achieve that goal.
Above all, during this time of increased pressure, and while facing a future that cannot be predicted, we know that our customers want empathy, understanding and support. For example, they don't necessarily want text alerts with special offers. They want instead to know how to cope with urgent challenges that sprang up literally overnight, like how to immediately create more capacity to ensure connectivity with their at-home workers.
To meet customers where they are both now and will be in the future, most organizations will need to rethink and adjust their approach to customer experience. Other organizations, the ones that did not focus on customer experience in the past, will have to create effective new programs from scratch.
Maintaining high-quality customer experiences can be challenging in the best of times. It's even greater now as we all face uncertainty and look for answers. To this end, I've identified five vital ways to deliver customer experiences that meet and exceed our customer's expectations. These are not short-term fixes, because recovery from the crisis will require long-term guidelines. As a result, our modifications on how we do business will be a permanent part of the customer experience going forward.
Be proactive in communications with customers
This is not a time to pull back on customer communication. In fact, organizations should lean toward over communication in every way possible with their customers. Our customers want guidance on what they should be doing, and reassurance that they can take the steps necessary to keep their businesses up and running to meet the needs and demands of their customers.
In many ways, the fact that business travel is no longer encouraged gives us more time to talk to more customers. For example, one of our partners said that he averages over 200 travel days every year to meet with customers. However, considering that it sometimes takes two days of travel to meet with one customer for one hour, that's a huge time investment. Now, we can talk to three or four customers in a day. What's more, we can have group meetings over Zoom and other conferencing applications, bringing more people together.
This transition to virtual meetings was quick, and we've discovered that it offers many advantages. These advantages will likely impact the way we do business going forward. We're discovering that when you shift expectations, you can actually amplify your ability to engage with customers.
Focus on helping instead of selling
The hard sell is not the way to approach customers these days. What's needed now is a focus on being there in a nurturing capacity. This requires helping them solve their problems with a supportive approach that includes empathy and understanding. Remember that, first and foremost, we are all dealing with a global health crisis. This reality should set the tone for any customer interactions.
During the first phase of the crisis, we worked to help our customers stabilize their business processes. We've since moved into normalizing their processes, implementing solutions that will both help them through the crisis and drive improvements for years to come.
The ultimate goal should be to help our customers emerge from the crisis stronger than their competition. To this end, Rackspace has already created new products that meet our customers' needs today. It became imperative that we launch solutions faster than we normally would in order to drive transformation and help customers succeed sooner. As we saw in the economic downturn of 2008, companies that find ways to solve customers' problems faster will differentiate themselves in the marketplace.
Ensure digital capabilities are strong
The biggest topic on the minds of our customers over the past two years has been digital transformation. The overriding advice we've provided on how to deal with the pandemic is that this is not a time to hunker down and wait for a return to normal. We're not returning to anything; we're instead moving forward to new levels of performance and innovation. Everything we thought we had five years to prepare for now needs to be accomplished in the next few months.
This acceleration of expectations includes everyone, from the local neighborhood grocery store to large retail chains. Every customer-centric organization needs to double or triple down on the notion that it's going to be available and responsive. You must now bring your brand to your customers, instead of waiting for them to come to you.
We must identify the new model of customer expectations. And this urgent acceleration of innovative business processes will require digital solutions that transform everything from communication and selling, to service and employee morale. Think of this this way, the pace of acceleration to digital transformation will never be slower that it is right now. This is the expectation of new digital experiences.  We expect to see a great deal of innovation in the coming months, with the majority of it born out of necessity.
Build customer trust
Trust is the final piece of the customer-experience puzzle. I'm reminded of the analogy that trust is like water in a bucket – you fill it drop by drop but can lose it in one motion. Our customers will remember who was ready to help them, and they will trust those companies more to help them run their critical operations in the future. They will remember the partners who rose to the challenge and helped them survive. This is an opportunity for service providers to develop resilience and to flex their agility muscles. Getting this right gives us the ability to differentiate ourselves and accelerate out of a crisis.
COVID-19: How Rackspace Is Helping
About the Authors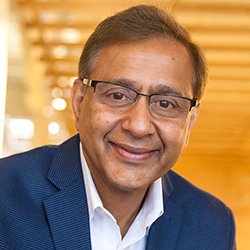 President, Americas Region
Subroto Mukerji
Subroto is President of the Americas region of Rackspace Technology®. He previously held the position of Chief Operating Officer. Subroto is focused on delivering profitable revenue growth and Fanatical Experience™ to customers while continuing the tradition of Rackspace Technology being best place to work for all locations throughout the Americas region. Before joining Rackspace Technology, Subroto was Vice President and General Manager at DXC Technology, a $25 billion publicly traded IT services company, where he was responsible for up to $2.5 billion in annual revenue across the travel, transportation, automotive, energy, consumer and retail industries. He has held leadership positions at Hewlett-Packard, Hewlett Packard Enterprise, Digital GlobalSoft and Wipro. His specialties include profit management, customer engagement, growth strategy and global leadership. His deep expertise in change management has successfully led teams through periods of robust digital transformation and evolution. Subroto received his Master of Management Studies degree at Birla Institute of Technology and Science in Rajasthan, India, where he completed a five-year integrated program with three years of general engineering and two years of management education.
Read more about Subroto Mukerji