Rackers Giving Back: Mentoring with CyberPatriots Brings Analyst Full Circle
tracy.hamilton
Rackspace employees have the expertise to solve some of today's most complex business IT challenges. In addition to helping customers, many also serve our community with their talents. Rackers are encouraged to use their annual volunteer time to give back in whatever ways are meaningful to them.  
---
A high school teacher changed the trajectory of Ricky Banda's life, and today, through CyberPatriot, a youth cyber education program created by the Air Force Association, he hopes to inspire others.
Ricky works as a cybersecurity analyst inside Rackspace's Customer Security Operations Center, a cavernous dark room lit by giant monitors along one wall, a space accessed through an unmarked door tucked away in a corner of the Castle, Rackspace's San Antonio headquarters.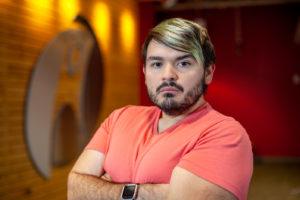 A typical day for Ricky, who started at Rackspace in 2015, and his analyst colleagues involves threat hunting, looking for bad guys in customers' online environments. At 24, he doesn't yet hold a college degree (although he's actively working on it), but he has earned an alphabet soup of security certifications: A+, Network+, Security+ CCNA, CCNP, CCNA Security, GCIH, CEH, SSFPS and more.
His early schooling and interests couldn't have foretold the success Ricky has found as a cybersecurity expert. He was a freshman at Southwest High School, located in the southwestern corner of Bexar County, far from the hustle and bustle of central San Antonio, when a teacher, Arthur Celestin, said something that piqued his interest.
"He put this idea in our head that if we did well during high school, we could graduate and make good money; he told us he wanted to see us make more money than him when we graduated," Ricky recalled. "I didn't have very involved parents, so that became my motivation to work hard. Starting my sophomore year, he had us training for our A+ certification. And the best thing was his teaching style: he basically said here are your tools, here's the book. I will mentor you, but it's up to you — and you can take this as far as you want."
As part of a college prep security academy program at the Alamo Colleges, Ricky began taking college level classes. One day a professor described the CyberPatriots organization and the national cybersecurity competition it sponsors — was anyone interested in creating a team to compete?
Armed with his first certification, Ricky and another student formed a team, and the rest was history.
"We did very well that first year, getting to third place nationally," he said. "That was it. I learned that I really loved security, I loved learning. I found my calling."
The next year, as a high school senior, Ricky was hired as a network security defense analyst intern by the Air Force. Armed with his high school diploma, he interned at Northrup Grumman.
In 2012 Ricky was featured in a San Antonio Express-News story about high school grads landing high-tech security positions.
"In the U.S., we have such a shortage of cyber professionals, and San Antonio is booming in cyber-fields, so companies and government agencies are recruiting kids out of high school and undergrads so they can train them," he told the newspaper at the time.
That same year, Ricky started mentoring with local CyberPatriot groups; he says his goal is less to impart specific security wisdom than to offer the teens he's working with a vision for their futures, just like Arthur Celestin did for him.
"Of course, no one has their life figured out by then," he said, "but I tell them, if you find that you like IT, this is a great start. When I was 18, I bought my first house, I was independent."
Ricky says he knows how blessed he is to have gotten into cybersecurity through CyberPatriots, and the wise words of Mr. C, as he calls his former teacher. "All I really want is to help other kids, those who may be in similar situation as me, and inspire them in the way Mr. C inspired me."