27,000 hours, 11 Countries: Countless Lives Impacted by Racker Time and Talent
meghangoodman
Every year, Roosevelt High School Family Specialist Francisco Martinez keeps an eye out for students who'd like to attend prom but can't afford it.
He connects them with "Project Prom," one of the more unique partnerships hosted by Rack Gives Back, Rackspace's employee-led volunteer organization. Roosevelt High School is one of seven inner-city public schools "adopted" by Rackspace around its headquarters a decade ago. (Since then, Rackspace offices around the globe have also adopted local schools.)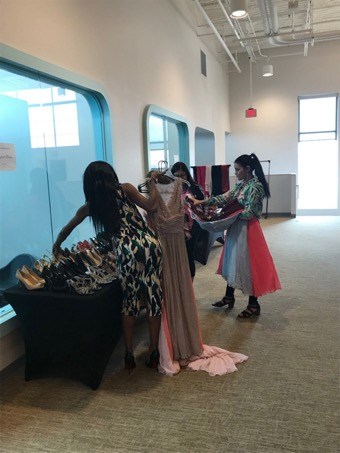 Martinez chose six girls to take part this year. All are hardworking students facing difficult challenges: two meet the legal definition of homelessness and one is mother to a nine-month-old, he said. Most have after-school jobs; all are first generation college-bound students.
Now in its third year, Project Prom brings the girls to Rackspace to "shop" for a dress, shoes and accessories — all donated by generous Rackers (as we call our employees). But of course, it's about more than dresses and shoes; the girls also get to interact with professional women, many of whom faced similar obstacles on their path to success.
"I remember being that age and having nobody – no guidance, no mentor," said Brittany Klingbeil, a strategic pursuit manager at Rackspace.
"It's nice to stand as an example of the opportunities available as these girls approach graduation."
It is that spirit that animates the work of Rack Gives Back volunteers. In 2018, Rackers logged just shy of 27,000 hours of volunteer time and donated $649,795 through the related Rackspace Foundation, which funds a variety of after-school and enrichment programs to Rackspace-adopted schools like Roosevelt.
[Read more: 2018 Rack Gives Back Annual Report]
Rackspace encourages employees by offering paid time each year to volunteer their time and talents. Rackers use this time in almost endless ways, from more traditional types of volunteer efforts, such as food drives, disaster relief and mentoring, to projects that allow Rackers to tap into their professional expertise.
Take, for example, Nadia Awan, a Racker who works in our Hayes, U.K. office. She used her volunteer hours to create an animation for Make-A-Wish! U.K., to help it show future clients and families how the wish referral process works when they apply.
"It has been exciting to make something unique and creative for Make-A-Wish! to help them better showcase the Wish referral method," said Awan. "The video will be on Make-A-Wish UK's website once completed."
Or Racker Johnny Carrera, who created a curriculum for the Girl Scouts' new cybersecurity basics badge — and then spent a recent Saturday teaching a local troop led by Racker Sydney Schneider.
Rack Gives Back began with the very creation of Rackspace 20 years ago, as early Rackers sought to do some good in their San Antonio community. Today, it serves as a global resource, serving communities around the globe, where we live, work and play.
Making sure employees have the opportunity to give back is not just the right thing to do; it's good business. Giving our Rackers the opportunity to leverage paid volunteer time off for any cause of their choosing is correlated with high engagement and well-being. Indeed, not only does Rackspace regularly land on "best places to work" lists across the globe, we were named one of People magazine's "Companies That Care" in 2018.
That's certainly the case for Robert Foster, a lead infrastructure engineer in our Hayes, UK office. A Cub Scout leader, Robert spends evenings and weekends leading young scouts, and he appreciates that Rackspace supplements that time.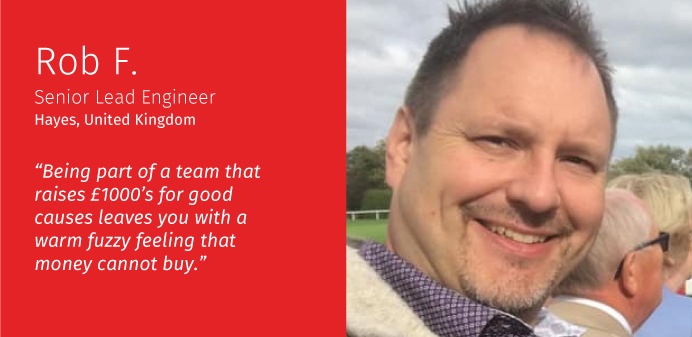 Volunteer time off "is an amazing benefit," he said. "Getting out and making a difference in a way that you're passionate about is so rewarding and personal. Giving money to a cause is one thing, but from speaking to a number of organizations, time is so much more valuable."
---
Are you a Racker? Click the link below to learn more about a career at Rackspace.