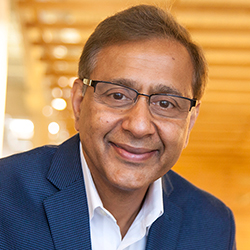 Subroto Mukerji
President, Americas Region
Rackspace Technology
Subroto is President of the Americas region of Rackspace Technology®. He previously held the position of Chief Operating Officer. Subroto is focused on delivering profitable revenue growth and Fanatical Experience™ to customers while continuing the tradition of Rackspace Technology being best place to work for all locations throughout the Americas region.
Before joining Rackspace Technology, Subroto was Vice President and General Manager at DXC Technology, a $25 billion publicly traded IT services company, where he was responsible for up to $2.5 billion in annual revenue across the travel, transportation, automotive, energy, consumer and retail industries. He has held leadership positions at Hewlett-Packard, Hewlett Packard Enterprise, Digital GlobalSoft and Wipro. His specialties include profit management, customer engagement, growth strategy and global leadership. His deep expertise in change management has successfully led teams through periods of robust digital transformation and evolution.
Subroto received his Master of Management Studies degree at Birla Institute of Technology and Science in Rajasthan, India, where he completed a five-year integrated program with three years of general engineering and two years of management education.