Open Cloud Academy Schools Local Girl Scout Troops in Cybersecurity Basics
By tracy.hamilton -
Johnny Carrera holds a black Tesla coil wand over an upside-down pie pan.
"Now we're going to talk about networking," he tells the group of Junior Girl Scouts who stand in a ring around him. Their green vests are crowded with badges. "And how information goes from your computer out into the world."
[caption id="attachment_46664" align="alignleft" width="225"]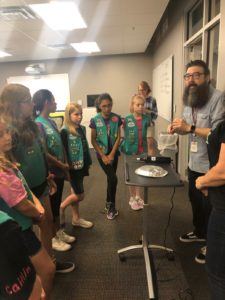 Members of Troop 360 and 367 look on with a bit of trepidation as Johnny Carrera demonstrates a Tesla coil.[/caption]
He presses the switch on the wand, holding it near the pie pan. The girls gasp and oooh when a tiny bolt of lightning shoots from the wand to the pan.
The current, Carrera explains, illustrates data going to or from your computer. "Now," he asks, holding out the wand, "who would like to give it a try first?"
The girls look skeptical, but eventually, each one boldly grips the Tesla coil and zaps the pan.
Carrera is a senior technical trainer with Open Cloud Academy, which Rackspace founded in 2013 to help fill the IT skills gap in San Antonio. He created the curriculum he's teaching the girls, who hail from local Troops 360 and 367, so they can earn the first of three cybersecurity badges.
Cybersecurity is part of an increased focus by the Girl Scouts on science, technology, engineering and science, or STEM. By earning the cybersecurity badges, girls learn how computers and the internet work and apply the concepts of safety and protection to the technology they use every day. In addition to the cybersecurity, the Girl Scouts this year introduced journeys and badges in robotics, college prep, space science and eco-camping.
[caption id="attachment_46669" align="alignright" width="300"]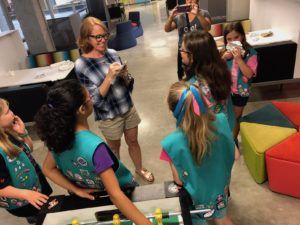 The girls tell an interviewer what they like so far about earning the cybersecurity basics badge.[/caption]
"We're always evaluating—and enhancing—what girls do, how they connect, and how they grow as Girl Scouts," wrote a member of the Girl Scout national organization on its website. "And we listen when girls, parents, and volunteers tell us what they like most."
Sydney Schneider, an 18-year Racker who currently serves as the company's legal operations manager, is also the leader of Troop 360. When she first learned of the new cybersecurity badges, she immediately understood the value of teaching her troop's 9 to 11-year-old Juniors how to better navigate the online world, and do it safely.
"The internet is an integral part of life today, and it's critical that all kids understand how to navigate it, and how to stay safe," she said. "Earning this badge also offers the girls the opportunity to learn about the careers related to computer science and technology."
While the Girl Scouts offer direction on what must be covered to earn each badge, Schneider didn't have a developed curriculum — so she turned to her colleagues at the Open Cloud Academy, to see if they could help.
[caption id="attachment_46668" align="alignleft" width="225"]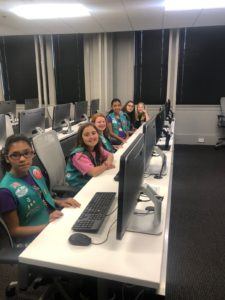 Ready to compete against each other in the next interactive quiz.[/caption]
Marcus Benavidez, Open Cloud Academy Director, said his team immediately saw the value in volunteering.
"We're already in the business of helping to diversify what the IT workforce looks like," he said. "So this fit really nicely with that. We were thrilled to get the chance to help."
[Read more: Open Cloud Academy Now Accepts GI Bill for Tuition]
Carrera, who spent a dozen years teaching technology at Holmes High School before moving to OCA, volunteered to develop a curriculum. He mixed hands-on fun like the Tesla coil with videos and interactive quizzes.
Last Saturday morning, they opened up Open Cloud Academy to Schneider, the girls and several of their mothers — with breakfast tacos, of course.
[caption id="attachment_46667" align="alignright" width="225"]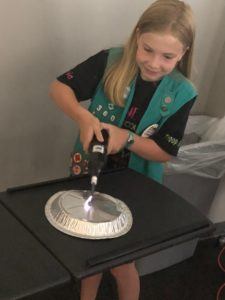 Victoria tries her hand at simulating data entering or leaving a computer with a handheld Tesla coil.[/caption]
Each Junior got to take a turn creating a spark from the Tesla coil to the pie pan. A few minutes later, they gathered to watch a video on networking, then in teams they answered quiz questions through an app.
The energy in the room was high as Carrera gently kept the girls focused on questions like 'Who controls the internet?' (The answer is no one, the girls learned – not the government, definitely not elves).
Victoria, 10, said the quizzes were her favorite part, "because we're racing against everyone else!" She was on Team Buttercup, competing against the llamas, the Unicorns and the Rainbow Unicorns.
Most of the girls had some computer experience already. Several have taken part in coding camps, and one — Ashlee, age 10 — had even already coded her own games, which she proudly showed off. Carrera called the level of detail she put into her coding choices "amazing."
"They love everything tech already," noted Trish Mirakian, mother to Isabella, 11, and Sophia, 10. "This opens up that world even more. And this class has been amazing. It's been easy to follow and has kept their attention."
That's a good thing, because Schneider is planning to donate the curriculum to the Girl Scouts of Southwest Texas, so any local troop leader can teach cybersecurity basics to their girls.
"Rackspace is a place that allows employees to give back and volunteer in really meaningful ways like this," said Schneider. "So it only makes sense to pay it forward."
[caption id="attachment_46558" align="aligncenter" width="1038"]

Are you interested in a career at Rackspace? Click the banner to learn more.[/caption]
Links
Follow Us