When It Comes to FedRAMP Authorization, Rackspace Is a Name You Should Know
lorenzowinfrey
As I write this, I am a little over a month removed from government service. Prior to coming to Rackspace, I spent 13 years working in the Department of Defense/intel world, working across almost all parts of IT, from research and development to operations, spearheading our cloud migration strategy and execution.
Time and again I found myself frustrated at our inability to access certain innovative technologies because they weren't "authorized."
FedRAMP is the federal government's mandatory pathway to that authorization. It connects sellers of today's most promising technical solutions to motivated government buyers.
But because this is the federal government, getting FedRAMP approval can be more difficult and expensive than it should be — and that deters some of the best and brightest from even trying. That's a shame, because the challenges facing the federal government are huge, and it needs you and your solutions to overcome them.
$80 billion annually on IT
If you're an independent software vendor (ISV) or systems integrator (SI) seeking to sell software-as-a-service to the federal government, Rackspace is a name you should know. We enable ISVs and SIs to achieve FedRAMP authorization to operate, or ATO, in a fraction of the time it takes for those trying to go it alone, and with a cost savings of up to 70 percent.
If that alone doesn't pique your interest in getting FedRAMP authorized, consider this: the U.S. government spends $80 billion dollars a year on IT. That's $80 billion, each and every year. FedRAMP authorization opens that entire market to your organization.
Beyond the potential revenue opportunities, as a recent transplant from the government I'm here to tell you — the government needs you. Federal agencies need a way to access the incredible solutions being created today — in artificial intelligence, machine learning, business intelligence, analytics and data science — to help them solve the nation's mostly challenging problems. The demand is there; it's on us as private industry to make sure it has every opportunity to exploit these innovations for the good of us all.
How Rackspace can help
So here's the thing: chances are if your core competency is creating cutting edge software solutions or integrating them, then it isn't delivery of secure cloud environments or continuous monitoring and governance. That's okay, because that's exactly our specialty.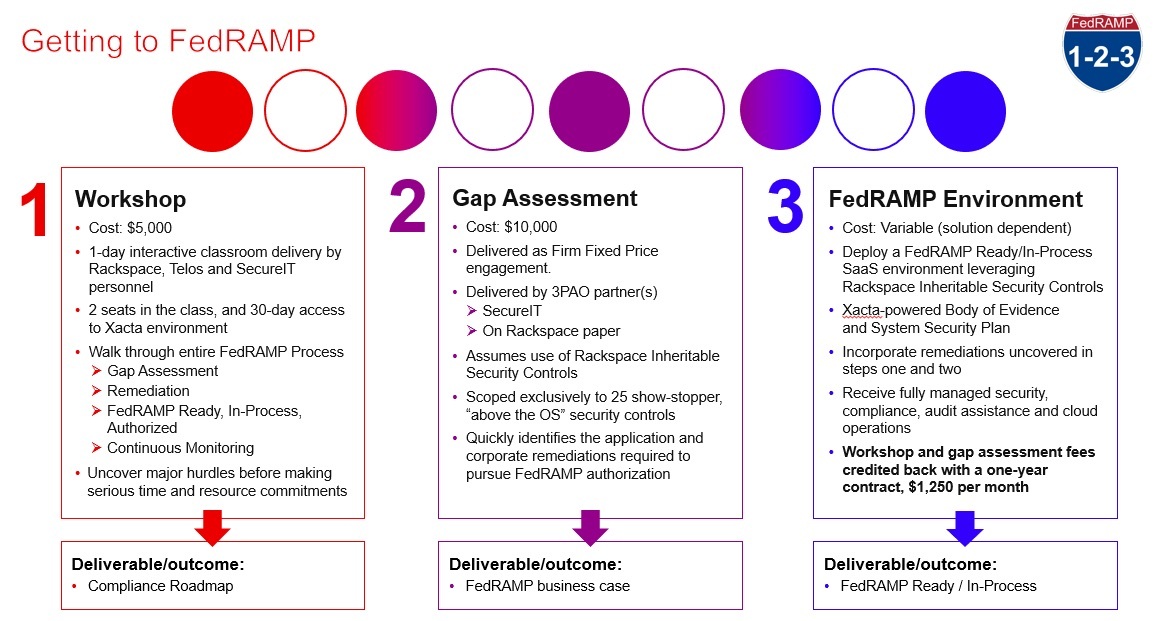 Rackspace Inheritable Security Controls, or RISC, is a turnkey, collaborative approach to FedRAMP compliance and authorization for SIs and ISVs, offering three clear steps to affordable FedRAMP compliance. By leveraging the power of FedRAMP inheritance, which allows you to build on and leverage the security requirements we've already addressed and Rackspace's existing ATO, you can add FedRAMP-authorized solutions to your portfolio in three easy steps. Think of it as FedRAMP-as-a-service.
Currently, Rackspace is one of only 36 FedRAMP Joint Authorization Board (JAB) authorized solutions. That's opposed to an agency-authorization, the scope of which pertains to just a specific federal agency. The JAB vs agency authorization is critical because it means that when you partner with Rackspace and build the foundation of your SaaS offering on our RISC platform, once it's authorized, your solution is immediately available for consumption by the entire federal government.
Of those 36 FedRAMP JAB authorized solutions, Rackspace is one of only 17 providers with 10 or more completed authorizations — a clear indication that we know what we're doing, our solution is proven and we can get you the finish line.
A streamlined path
When you choose Rackspace and RISC, you can look forward to a streamlined path to FedRAMP ATO in as little as four months — that's three times faster than average. You gain access to our economies of expertise, including more than 5,000 certified cloud subject matter experts on staff who are well-equipped to handle the biggest and most complex projects. When you choose Rackspace and RISC you get the following delivered by a team who specializes in FedRAMP authorization enablement:
FedRAMP gap assessment
FedRAMP marketplace listing
FedRAMP compliance as a service
FedRAMP documentation
System security plan
Body of evidence automation
FedRAMP audit support
Fully managed cloud services within a FedRAMP-Authorized Cloud Service Provider
Secure cloud environment with continuous monitoring and governance
Fully redundant solutions, with business continuity and disaster recovery options
24/7/365 operations, staffed by U.S. personnel
Unique combination of automation, tooling, and human expertise, enabling governance and operations support
As a recognized Gartner Magic Quadrant leader, we are uniquely positioned to close the gap between the complex reality of today and the promise of tomorrow. Let the Rackspace team focus on the majority of the boring but necessary work of getting authorization, while you continue to focus on your core mission and the work that will take your business to the next level.
If you're attending AWS Public Sector Summit in Washington, D.C. next week, please come visit us at booth 654 — or sign up for our FedRAMP workshop to learn more.