Colocation: Getting Out of the Data Center and into AWS
ericjohnson
One of the first talks I gave after I started working at Rackspace was to a global financial company based in the UK that had just sunk several million dollars into a data center — but wanted to hear what I had to say about public cloud. You might be thinking to yourself, 'that seems out of order,' and you'd be right. This company, like so many others we see, was now trapped under the weight of managing a data center and didn't see an easy way out. Let's face it, owning and maintaining a data center is expensive, and generally outside the scope of what most companies do. At a high level, to build and maintain an effective data center you have to plan for space, hardware, utilities and staffing. Once you have accomplished that, you then need to figure out how to make it redundant. With a complicated recipe like this, you can see why companies want to dump their data centers as fast as they can. However, many companies are also upside down in their data center investments and have not seen enough depreciation to justify migrating out. Now, if you know anything about me, you know I am a public cloud fanatic. I mean, it's my job title: Public Cloud Evangelist. So in my opinion, all workloads should be in a public cloud and that's the end of the discussion. But I'm also a realist. I realize that not every workload is made for public cloud (pains me to say). I also realize that, even if a move to public cloud makes sense, climbing out from under a data center is not an easy task. So, what is a company that wants out of maintaining a data center but has too much invested to do?
Colocation is the answer
This is exactly the problem Rackspace is looking to solve with our new Rackspace Colocation Services and Infrastructure Management. With colocation you continue to use your hardware, but you no longer have to worry about all that goes into maintaining the data center. We provide the expertise, data center space, cooling and power. Additionally, with Rackspace Colocation Services and Infrastructure Management you can take advantage of RackConnect Global, which connects your colocated environment to a public cloud provider, a Rackspace data center, or back to an on premises data center, all with a private, low-latency connection.
Moving to the AWS Cloud
To a cloud enthusiast like myself, the ability to connect your colocated data center to a public cloud provider like AWS opens up a whole world of options. First, it offers the immediate opportunity to dip your toes in the cloud waters, without having to write off your hardware. The great thing about AWS is that dipping your toes in means taking advantage of services like AWS Auto Scaling for application elasticity and Amazon RDS for offloading relational database management. Let me walk you through a possible scenario. Let's say I am the CTO of an enterprise company that runs a large e-commerce platform out of my own data center. I have a substantial amount of money invested in hardware and licensing and am not ready to throw that away. However, I also host my corporate site and white-labeled, third-party sites out of that same data center. One beautiful Monday morning, I get a call from my CEO saying that our company is not in the real estate business anymore and we need to dump our data center without it hitting our pocket book too hard. I'm in a pinch, but after doing some research I come up with a plan.
How it works
First, I partner with Rackspace to colocate my existing hardware to one of its world class data centers. Then, Rackspace helps me plan and execute my migration. As a follow up, I will take advantage of RackConnect and move my company into the hybrid world by off-loading the hosting of my corporate and third party sites to AWS. By making this move I am able to take advantage of the elastic nature of the AWS Cloud while still maintaining my current hardware and licensing at Rackspace. There are hundreds of scenarios that make sense when you have access to hybrid cloud expertise and capabilities at your fingertips. It allows you to match workload processes to providers or architectures that excel in that type of work. And colocation allows you to include your existing hardware in the equation.
You're not alone
If your company is evaluating the ownership of a data center and feel like an exit strategy is not possible due to already invested funds, I encourage you to take a look at a colocation option.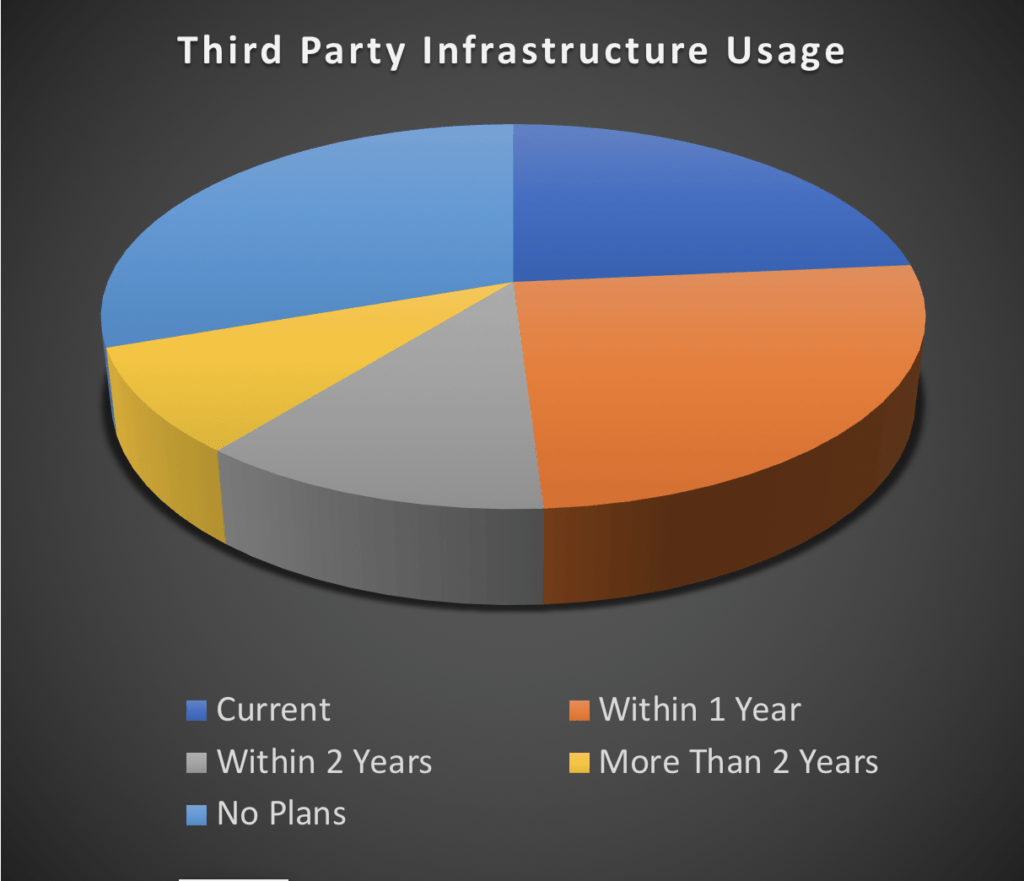 You will not be alone. In surveying over 850 companies, IDC's Quantitative Research Group found that only around 30 percent of those surveyed are keeping their own data centers. And within two years, more than two-thirds of the respondents will be utilizing a third-party infrastructure provider. If you decide to go the colocation route, Rackspace has the expertise and capabilities to help you get the most value out of this step in your cloud journey. With a colocation at Rackspace, you are truly starting a digital transformation journey with a company that can help you from beginning to end. Let us get you started with colocation and help you make the leap to cloud.