Do More Than Automate the Drudgery with the RegTech Revolution
joniwilliamson
Imagine instead of doing your job all day, you spent it filling out spreadsheets and checklists about how you do your job. Imagine you still had to do your actual job on top of that, meaning 70+ hour work weeks.
This is the reality for many financial technologists, who spend countless hours wrangling those spreadsheets and checklists as part of mounting regulatory compliance reporting demands. I know, because I lived it. I also know most of us got into this field to do the actual tech, to make our customers' financial lives better, safer and more secure, to blow their minds with the latest in a long line of amazing services we dreamed into existence and pushed to their smartphones via an app update.
Now the opportunity exists to do less of the drudgery and more creating new products and services. Enter RegTech, or regulatory technology, the champion of all technologists who want to remain focused on the meaningful part of their jobs.
How RegTech helps
RegTech offers technologically advanced solutions to the constantly rising compliance demands within the financial industry. In other words, they're the automators and innovators behind eliminating those dreadful spreadsheets. Deloitte calls RegTech "the new FinTech," and the comparison is an apt one. RegTech has the potential to completely reinvigorate financial services technology by shifting the focus back to where it should be – wowing the customer!
And that means positive change not just for front line technologists who desperately want to be creating value for their companies, but companies themselves, which, by embracing the value of these new technologies can allow its technologists to create that value — and that's a win for the customer, too. Win-win-win.
RegTech companies are focused on more than just simply automation, they're tackling the full spectrum of compliance automation. That includes early warning fraud detection and anti-money laundering assistance, artificial intelligence-driven risk assessments that help financial firms make better use of data for assessing their technology exposure, boosting the efficacy of Know Your Customer programs with social insights, algorithmic tuning and automated transaction analysis.
Financial drivers for adoption
If the positive benefits of RegTech have yet to convince you, the downsides of not doing so might. Pain can certainly drive innovation, and market indicators illustrate financial services companies are clamoring for relief. International Banker projects that the Tier 1 banking industry will spend $270 billion per year in compliance-related costs.
Based on my conversations with industry leaders, as much as three-quarters of their 'Change the Bank' budgets are earmarked for compliance and regulatory expenditures. The world's largest banks have spent more than $300 billion in fines since the 2008 financial crisis. These numbers seem to indicate that most institutions are paying attention, with spending on regulatory, compliance and governance software approaching unprecedented levels. Some market watchers are projecting more than $100 billion in compliance and regulatory spending by 2020.
Be a part of the revolution!
The numbers are alarming, and so is the very real possibility of your IT staff leaving or, worse, burning out from overwork and staying anyway. Remember — regulatory compliance is table stakes. The greatest disservice to technologists in highly regulated spaces is expecting them to know, understand and appreciate the minutia of new policies, while also expecting them to care about it more (and spend more time on it) than the day jobs they were hired to do. It can be demotivating, demoralizing and disenfranchising to anyone who chose tech because of their love for it.
Innovation is your secret sauce. Which do you really want your key IT minds to focus on?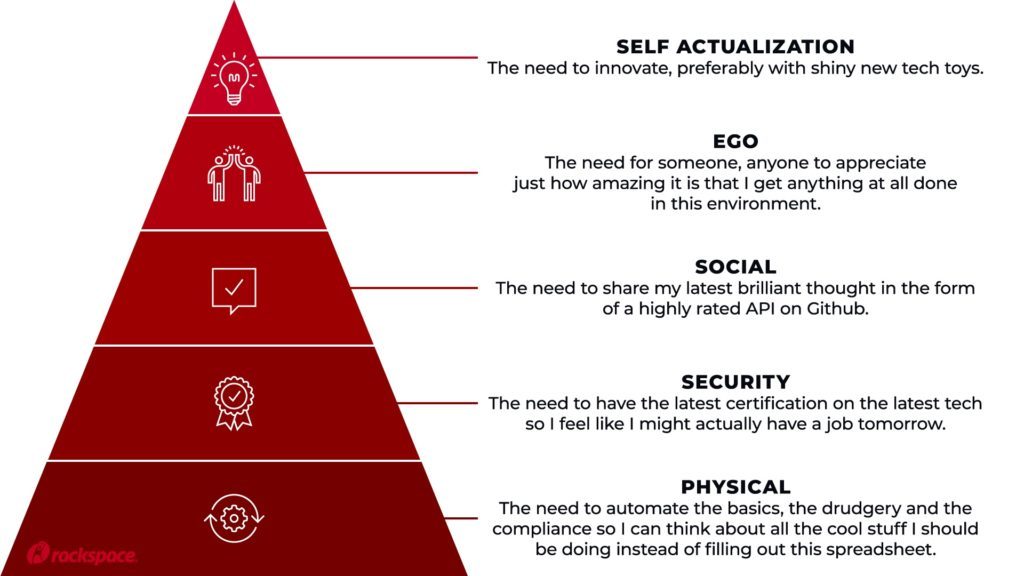 Continuing to stifle your IT productivity with a deluge of process documents and regulatory mandates is killing the spark you should be igniting. Most tech brains hate limitations, rules and having reins put on their creativity. So outsource the drudgery and insource the creativity. That is how your organization thrives, beats the competition and brings in new customers. All that and a happy and productive IT staff.
At Rackspace, we focus on providing clear information on our compliance and regulatory initiatives and continue to invest in the partnerships, skill sets and software that will allow your staff to focus on the future of your company and move up the technologist's hierarchy of needs.
If your company is not creating new services and increasing NPS scores by leaps and bounds, ask yourself – what exactly are your innovative minds doing all day? Here's a hint: check their inboxes and count the spreadsheets.
Learn more about Rackspace Compliance Assistance, or read about the work we did with Pinnacle Group, which had outgrown its cloud environment and needed to prepare for GDPR.