Expert Guidance for Modernizing Government Technology
Government organizations are confronting a daunting task: pursuing a "cloud-first" digital transformation in the face of complex, longstanding legacy technology and contract challenges.
By turning to Rackspace, you get a team of unbiased experts across a range of leading cloud and infrastructure technologies — built on a compliance-ready framework and backed by ongoing managed operations, continuous monitoring, security services, living compliance documentation and audit assistance.
Compliance and Certifications
FedRAMP JAB
Authorization
NIST 800-53
Security Controls
Expertise for Modernizing Government Technology
Government Agencies
---
Government agencies must overcome longstanding challenges around culture, access to technical talent and legacy infrastructure and contracts, making a cloud-first digital transformation difficult.
Federal Contractors, SIs and ISVs
---
All government-consumed clouds must meet FedRAMP standards, including 300+ controls and third-party assessments. Achieving FedRAMP takes 12 – 18 months, with millions in upfront and ongoing costs.
Solve Your Biggest IT Challenges
Strengthening the Cybersecurity of Federal Networks and Critical Infrastructure
Americans are demanding improved customer experiences, mobility, personalization and consistency from government organizations through citizen-centric services. But they're also demanding increased cybersecurity and responsibility of their personal information.
We implement and administer security controls based on NIST SP 800-53 and 800-171 to meet FISMA, FedRAMP and DFARS guidelines, and specialize in deploying high-security and high-performance solutions. Our platform is monitored 24x7x365 and managed from our government headquarters located near Washington, DC by U.S. personnel.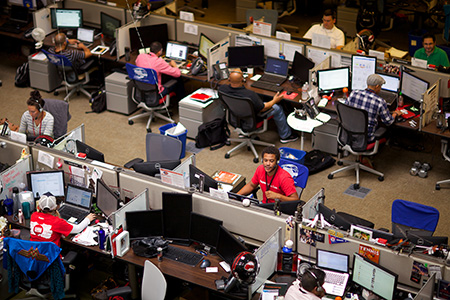 IT Modernization and Data Center Optimization
Government CIOs report that their traditional data centers and legacy applications are holding them back from implementing technology-enabled innovation. They're also struggling with legacy cultures and contracts and limited access to talent.
To combat these challenges, they're turning to the cloud. However, commercial cloud services largely provide only do-it-yourself building blocks, with no easy path for legacy applications and no implicit reduction in cost. This is where traditional time-and-materials and FTE contracts fail, as they are unable to provide the scale of expertise, speed of execution and agility required to be successful in a multi-cloud world.
Instead, let Rackspace take on much of that transformative role and ongoing operational burden for you. Using our consumption-based model, you can improve your operations and service delivery strategy higher up the stack — building truly modern, citizen-facing digital services, improving cybersecurity, investing in improved data analytics and generating real cost efficiencies.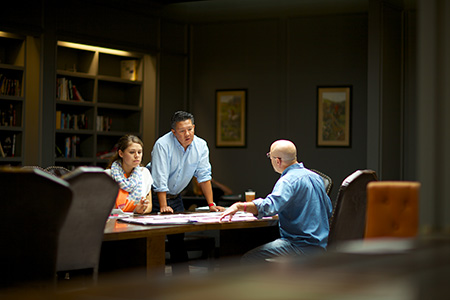 Put Your Resources to Better Use
With so many options and countless requirements, you need to ensure that your infrastructure is not only compliant, but also competitive. Our consumption-based pricing model means you can put resources previously allocated to achieving certifications to better use.
Benefit from our pre-built SSP and standardized programmatic toolset, which we can customize to meet compliance standards specific to your organization.
Extend Your Environment into the Cloud
Combine our authorized platforms and interoperable tool sets to scale your government services.
To help reduce your time to market, we provide the following:
System security plan and supporting Body of Evidence
System Escalation & Action Plan (SEAP)
FedRAMP path to ATO for system integrators and ISVs
Ability to layer agency controls on top of compliance standards
Achieve Efficiency
Through our programmatic toolset, customized to your organization's needs and compliance standards, you can receive the highest levels of standardization and efficiency.
We maintain and fully document approximately 80% of the security and compliance requirements, allowing your government entity — including government organizations, federal contractors, SIs and ISVs — to inherit our existing FedRAMP JAB accreditation package and ultimately reduce your time-to-market.
Simplify Your Move to the Cloud
Let our experts assess your current application landscape, cost structure and security and compliance requirements, to help identify the best-fit platforms for each of your workloads. Then, we'll design and execute your migration strategy accordingly.
By serving as your single provider for both migration and steady-state management, we enable you to mitigate the complexity and risk of migration while also optimizing IT spend and accelerating your adoption of cloud services with minimal downtime.
Federal Contract Vehicles
Our government solutions are available to US government entities through a variety of contract vehicles, including, but not limited to:
GSA IT Schedule 70
NASA SEWP V
VA T4NG
Army ACCENT IDIQ
HHS CMS SPARC Small Business IDIQ
Library of Congress BPA for AWS & Google Cloud Platform (GCP)
Managed Services Across Public, Private, Hybrid and Multi-Cloud Environments
Unbiased Expertise
---
Lean on our experts for a point of view based on experience, not bias, to serve your unique
needs.
Lean on our experts for a point of view based on experience, not bias, to serve your unique
needs.
Lean on our experts for a point of view based on experience, not bias, to serve your unique needs.
Unrivaled Portfolio
---
Let us manage your chosen technologies for you — across applications, data, security and infrastructure.
Fanatical Experience
---
Benefit from our proactive, results-obsessed approach to your digital transformation.
Agile Delivery
---
Get IT the way you want it: as a service, with pay-as-you-go billing and seamless, easy adoption.
A Full Range of Solutions for Federal Government Entities
Whether you choose to take advantage of our FedRAMP JAB-authorized government community cloud platform, a public cloud or a custom hybrid configuration, you'll receive an end-to-end solution that provides the peace of mind you need, to focus on your mission.
We are a web-scale Managed Service Provider (MSP), delivering 24x7x365 hybrid-cloud management, operational support and security services as a packaged, on-demand, audited and pay-as-you-go service. You get the same commercial services that power the Fortune 100, in a compliance-ready state, with the additional security controls and governance that make your mission unique.