When Private Cloud May be Cheaper Than Public
Jaret Chiles
To reduce IT costs and increase agility, the first place businesses turn is the public cloud. And for most businesses, that's the best place to reap those benefits. But for large scale enterprises, they may reach a certain point in their public cloud evolution, it's sometimes actually cheaper to have their own private cloud. Large enterprises often have persistent "always-on" workloads that they attempt to address with special contracted rates in public cloud, but may still struggle with the ROI. According to 451 Research, that point is somewhere around 400 virtual machines (VMs) managed per engineer. Of course, this is different in every use case, and finding your balance is a challenge without the right experience and expertise.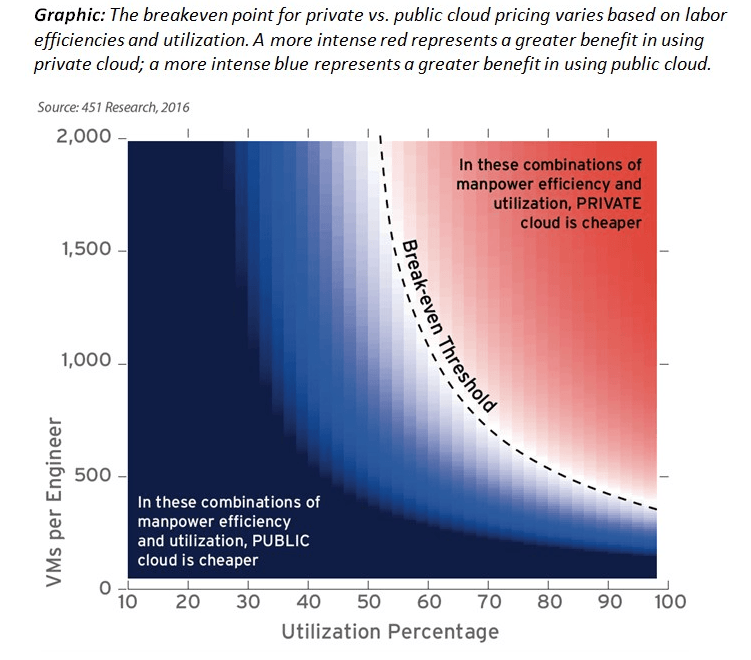 Does this mean private cloud is going to replace public cloud? No. In fact, the best solution, even for the largest enterprises, is still often a hybrid combination of public and private. For example, they may choose to host their applications and sensitive customer data in the private cloud, while relying on the public cloud for their productivity and collaboration tools and hosted business email. Or perhaps to host legacy application architecture with more persistent workload needs in private clouds. If your enterprise is currently in the public cloud, how do you know you're getting close to that tipping point, when the private cloud makes more sense? Or maybe your enterprise is still running on legacy infrastructure, and you're wondering whether you should migrate directly to a private cloud, or refactor for a public cloud? No matter where you are on your cloud journey, don't go it alone. Our Professional Services team can guide you through the entire process — from planning and assessment, to migration and optimization — to help you leverage the right mix of technologies and platforms for your unique needs. Also, be on the lookout for our upcoming resources. Over the next few months, we'll be posting articles, e-books, tools and white papers around:
The phases of IT transformation
How to avoid pitfalls and landslides along the way
Stories of transformation success
Questions every CIO should ask
Dealing with expertise gaps
But you don't have to wait. You can start your IT transformation journey today. Contact our Professional Services team now.