Fanatical Support for the Community
Rackspace has two primary avenues for community investment: Rack Gives Back and the Rackspace Foundation.
Rack Gives Back
Rack Gives Back enables Rackers to provide Fanatical Support to the communities in which we live, work and play by providing them an outlet for their passion to serve in personal and meaningful ways. Often referred to as the heart of Rackspace, Rack Gives Back encompasses all of our corporate philanthropic efforts.
We focus on three main areas of giving: Time, Talent, and Treasure.
Time
Each year, Rackers in the US are given 24 hours of volunteer time off to spend serving the community in ways that are personally meaningful.
2014 — 25,098 hours volunteered
2013 — 16.961 hours volunteered
2012 — 15,859 hours volunteered
Talent
It's no secret that Rackers are a talented bunch of people. From Linux Admins to Security Engineers to Software Developers, Rackspace is home to some of the best and brightest. We love to share our passion for technology with local students and use our skills to benefit the community.
Treasure
Each quarter, a portion of our revenue is given back to the community in the form of grants. Our corporate giving is focused on programs in the areas of STEAM – science, technology, engineering, arts, and math. We fund programs in the cities in which we have a Rackspace presence, be it an office or data center.
2014 — $811,563
2013 — $738,520
2012 — $739,213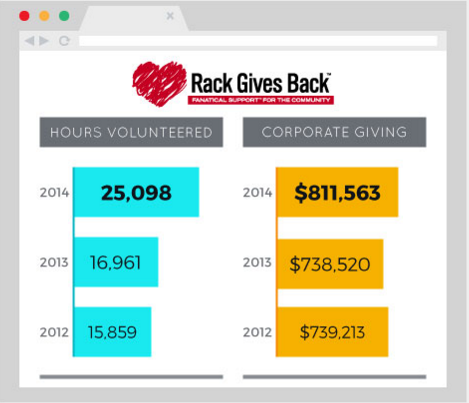 The Rackspace Foundation
The Rackspace Foundation funds enrichment programs in the seven neighborhood schools around our San Antonio headquarters. We call those schools the "Magnificent 7".
The Rackspace Foundation is unique in several ways. First, it is funded entirely by Rackers through payroll deductions. This is not a Rackspace-funded foundation; this is a Racker-funded foundation. The second is that we have no overhead costs, meaning 100% of the money donated into the Foundation goes directly to supporting our students. Since 2009 when the Foundation began, Rackers have invested over $3 million into our neighborhood, and we're expanding into a second city soon.
2014 — $715,771 donated
2013 — $534,614 donated
2012 — $303,970 donated