Rackspace Webmail
Take advantage of the powerful communication and collaboration features in Rackspace Webmail.
Along with an easy-to-use, familiar email interface, Rackspace Webmail also features the essential calendaring and contact features your business needs. Couple that with Fanatical Support® and our 100% Uptime Guarantee, and you have a webmail application that's tough to beat.
Try the demo now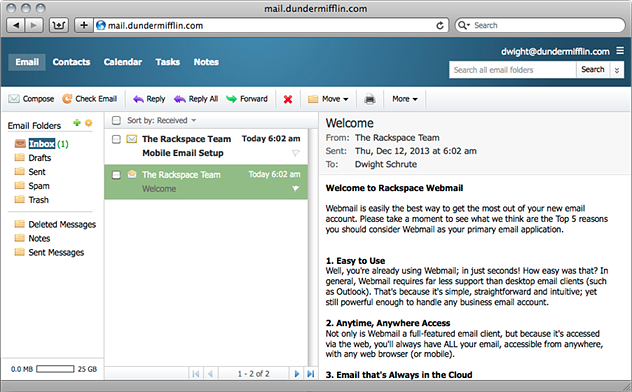 Calendars
All the bells and whistles of a business-class calendar application. Create and manage multiple personal and shared calendars, set reminders and recurrences, and color-code entries for at-a-glance viewing.

Tasks
Enjoy a standalone task manager, right in your inbox. Create multiple task lists featuring individual action items with completion dates. Use the notes area to keep track of task details. Your tasks even change color to remind you of due dates.

Contacts
Create multiple personal or shared contact lists. Add photos, multiple phone numbers and email addresses, mailing addresses, and notes to entries. Import your existing contact lists from other programs.

Notes
Record important information in an easy-to-use interface tied directly to your inbox. Notes are stamped with time, date, and title for easy retrieval.

Chat
Chat with other users on your domain in real time without leaving webmail. Enjoy a simple user interface and zero configuration for administrators.