Email on your mobile
You can access your Rackspace Email account via POP or IMAP on your smartphone, tablet, or mobile device, using your device's native email application.
Use your mobile phone or tablet to send and receive email from any POP or IMAP connection. Choose from 2 options:
Mobile Sync for Rackspace Webmail
Rackspace Webmail users enjoy real-time sync of email, calendars, and contacts on their iPhone®, iPad®, Android® or Windows® device. Built on Microsoft's ActiveSync protocol, our mobile sync service uses push technology to sync the following data instantly:
Mail and folders
Contacts
Calendar
Monthly Fee: $1.00/user
You can add Mobile Sync for Rackspace Webmail for individual users (or your entire domain) via your Email & Apps Control Panel.
Rackspace Webmail mobile site
Log into your Rackspace Email account from any smartphone or mobile device using our optimized mobile site. Access Webmail mobile at: apps.rackspace.com/mobile.
Webmail mobile gives you access to:
Mail and folders
Contacts
Calendar
Tasks
Notes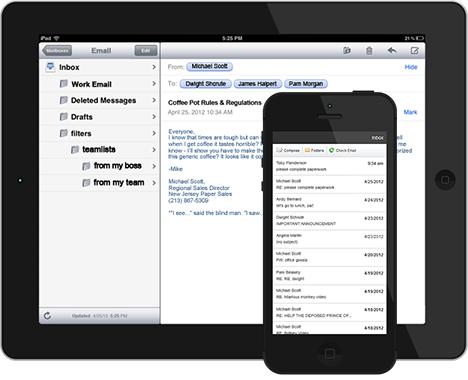 Rackspace Email is professional email for any size of business.
Sign Up Now