Outlook Web App
Enjoy the look and feel of Outlook® with the convenience of web-based access.
Shared calendars
Create meetings, accept invites, and view shared calendars with OWA. The Scheduling Assistant makes coordinating meetings and resources a breeze by using color-coded entries and real-time updates back to Outlook.

Contacts
View and organize contact and distribution lists from the OWA Contact Manager. Compile email addresses, mailing addresses, attachments, and notes for each contact, all in one place. Find saved contacts quickly with customized views, category assignments, sort options, and contact folders.

Tasks
Track, manage, and organize tasks with the same task management functionality as Outlook. Create reminders, set priority, and share tasks with other members of your team. Flagged messages from your inbox automatically update to your task list.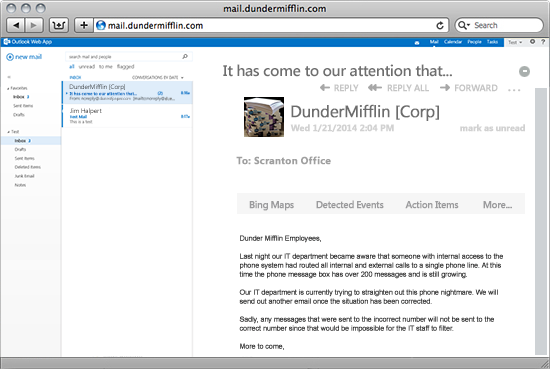 Outlook Web App
Manage your Exchange email from your favorite web browser.
Sign Up Now