Dedicated server hosting, customized for your needs
Designing a custom architecture for your mission-critical applications and workloads might seem complex, but we have solution specialists who can help you every step of the way. From server, network and storage configuration to monitoring and support, we'll help make sure you have everything your business needs.
All of our dedicated server solutions include:
World-class infrastructure hosted in our best-of-breed data centers with high-touch support
Our Managed service level includes 24x7x365 Fanatical Support®, our One-Hour Hardware Replacement and 100% Network Uptime Guarantees and much more
Our Managed service level, which includes our 1-Hour Hardware Replacement and 100% Network Uptime Guarantees
Dedicated Cisco® ASA firewall managed by Cisco certified NetSec Engineers
Managed backup with two weeks of onsite retention
Hardware monitoring, availability monitoring and file system monitoring
Power redundancy
2TB of outgoing bandwidth per dedicated server (incoming is free)
24x7x365 access to a dedicated support team and account manager who provide Fanatical Support® and expertise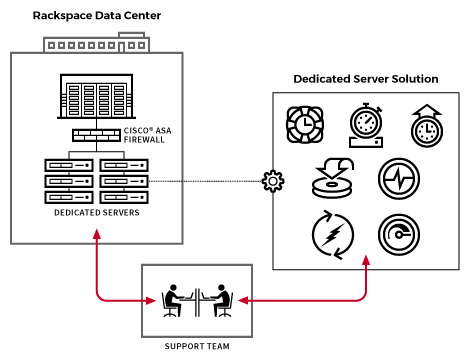 To get started:
1. Choose a base configuration from our portfolio of dedicated server bundles to start tuning the hardware to meet your workload requirements.
2. Chat with one of our server specialists or engineers to customize the hardware for specific solutions, from virtualization to web applications.
3. Rackspace deploys your server(s) in our data centers.
4. Customize the application resources and the environment by leveraging Rackspace technical experts. Our DevOps teams, architects and support engineers can help architect a solution that best fits your needs. If you have any questions about configuring or scaling your hardware, reach out to your dedicated support team to help you assess and select workload configurations.
Processors
Customize your dedicated servers with high performing Intel E5-2600 v3 and E5-4600 v3 processors that can enable your workloads to run faster and more efficiently while lowering overall cost of ownership. Configure your 2U or 4U server with up to four processors to deliver high performance for diverse workloads.
Memory
Add up to 3TB of DDR4 RAM during initial deployment, or increase memory capacity during the life of your server to meet your business growth. With next generation DDR4 memory support, your overall memory bandwidth increases and is optimized for your workloads.
Solid state drives (SSDs)
As you seek to harness the power of information, the demand for data-intensive and transactional workloads such as data warehousing, real-time analytics and virtualized environments is expanding. Select enterprise-class solid state drives (SSDs) that offer significant performance benefits over traditional disk drives. This is ideal for applications requiring high random I/Os per second (IOPS) performance with low latency.
SATA hard drives
SATA drives are optimal for high-capacity storage servers and provide the lowest $/GB. They are an ideal choice for non-mission critical applications with low-utilization workloads of 40% or less like web applications and mail servers. SATA III hard drives include a 6.0 Gbps interface with 64MB of cache and utilize NCQ for enhanced performance.
SAS hard drives
SAS or SA-SCSI hard drives provide high performance, flexibility, increased reliability, greater density and scalability. They include a 12Gbps interface with 16MB of cache and rotation speed of 10K or 15K RPMs. Choose SAS drives for mission-critical workloads where reliability and high-performance speed are paramount.
Hardware RAID controller
Hardware RAID controllers create redundant storage arrays for protection against drive failures. All RAID controllers include Flash-Based Write Cache (FBWC), which is designed to increase overall performance, especially in write-intensive application environments. In addition to 12GB/s SAS support, RAID controllers include onboard battery backup.
Customize your network for high performance and security:
Cisco® ASA firewalls are dedicated to just your environment and fully managed by Cisco-certified NetSec Engineers. We also offer the Brocade 5400 vRouter virtual firewall.
Dedicated load balancers from Brocade and comprehensive application delivery controllers (ADCs) from F5 Networks ensure fast, reliable and secure delivery of your applications to users.
10G switches from Cisco and Arista maximize your network connection speeds and provide the flexibility to scale up and scale out your network as your business grows.
Comprehensive DDoS protection and mitigation protects your applications and data from the ever-increasing DDoS attacks that threaten your business.
Effectively secure your network and protect your business:
Managed Security service to protect against advanced persistent threats (APTs) and other cyber-attacks from a 24x7x365 Security Operations Center.
Compliance Assistance service to assist in defining, managing and validating your Governance, Risk and Compliance (GRC) environment.
Targeted Security Offerings to leverage leading technology providers with proven security solutions for IDS/IPS, encryption, anti-virus, SSL certificates and more.
Learn more about how we combine security awareness with the right technology and services to help you meet your infrastructure needs.
Database Administration (DBA) Services
Put our DBA team to work for you supporting every aspect of your MySQL®, Oracle® or Microsoft® SQL Server® database. We can collaborate with your in-house DBAs so they have time to focus on innovation activities. We can even act as your entire DBA team.
Intensive Service Level Agreement
Add performance monitoring, regular account reviews for continual process and infrastructure improvements, and a more aggressive SLA, including guaranteed incident-response times based on severity level.
Critical Application Services
Hire a team of engineers to monitor and optimize application performance, and keep your most important assets up and running with a 100% production platform uptime guarantee.
Talk to a specialist to get started today.