Premium web hosting for serious developers
When your website is responsible for generating significant revenue, you can't afford slow page loads — and downtime is unacceptable. Every time user experience suffers, it's a lost opportunity with a potential long-term impact.
That's why we designed Cloud Sites to keep high-traffic websites up and running fast — all of the time.
If you rely heavily on your website, you're in good company. We serve the ninth largest volume of traffic on the entire internet, hosting more than 400,000 websites that get over 500 BILLION page views per year. That includes a lot of major sites, like Teen Choice Awards and Big Ass Fans. We also support many of the leading agencies, including Bright Blue Day and Giles-Parscale, by hosting their customer portfolios.
Starting at
$150/mo
Create new sites and databases on demand
What you'll get:
Agility. A range of predefined, proven reference architectures designed for performance, scalability, and security.
Performance. Optimized architectures ensure fast page loads to keep engagement and conversions high, even through planned events and unexpected surges.
Scalability. We scale your digital workloads across multiple domains so you can scale your business. Whether you're planning for hyper-growth or already experiencing it, we help ensure that you're ready for success.
Reliability. As a leading hosting solution, Rackspace Cloud Sites is always up and your site is always available.
Security. We proactively patch vulnerabilities and offer a full range of security solutions to help make your environment PCI-compliant.
Expertise. We offer self-managed and fully managed service level options, backed by 24x7x365 Fanatical Support.
Explore Rackspace Digital for Adobe Experience Manager Offerings
Pricing
| Compute Cycles | Storage | Bandwidth | Domains | Price |
| --- | --- | --- | --- | --- |
| 10,000 | 50GB | 500GB | UNLIMITED | Starting at $150/mo |
Need More
| Storage | Bandwidth | Compute Cycles | SSL Capabilities | Domain Registrations | MSSQL |
| --- | --- | --- | --- | --- | --- |
| $2/GB | 18¢/GB | 2¢/cycle | $20/mo | Starting at $10/year | $5/100MB |
Rackspace is the only host I've found where my site goes down virtually never — and if it does, I've never had to wait for more than maximum two minutes to talk with a Cloud Sites professional who knows exactly what he or she is doing.

— Lucian Dixon, The Political Carnival
Let our skilled and experience team help customize, configure, and deploy your Cloud Sites environment.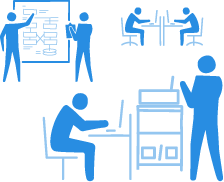 Developer Resources
Dig deeper into Cloud Servers with informative blog posts, technical info and customer success stories.