Production-ready private cloud
The Rackspace® Private Cloud powered by OpenStack® software and reference architecture deliver a stable and scalable production-ready private cloud powered by upstream OpenStack. And it is built without proprietary hooks, ensuring you avoid the risk of vendor lock-in.

99.99% uptime
Backed by an industry-leading 99.99% OpenStack API uptime guarantee.

Scalability
Grow seamlessly with a cloud designed to scale to hundreds of nodes and petabytes of storage.

Built-in automation
We use Ansible to automate the deployment of your cloud infrastructure and provide solution templates for deploying production-ready application stacks in minutes.

LXC
We use Linux containers to independently scale each OpenStack service and enable seamless, in-place upgrades.
And with the addition of our managed support services, your cloud is managed by our experts and backed by an industry-leading 99.99% OpenStack® API uptime guarantee. You get all the power of the cloud without the pain of running it—so you can focus on your core business.
Reference architecture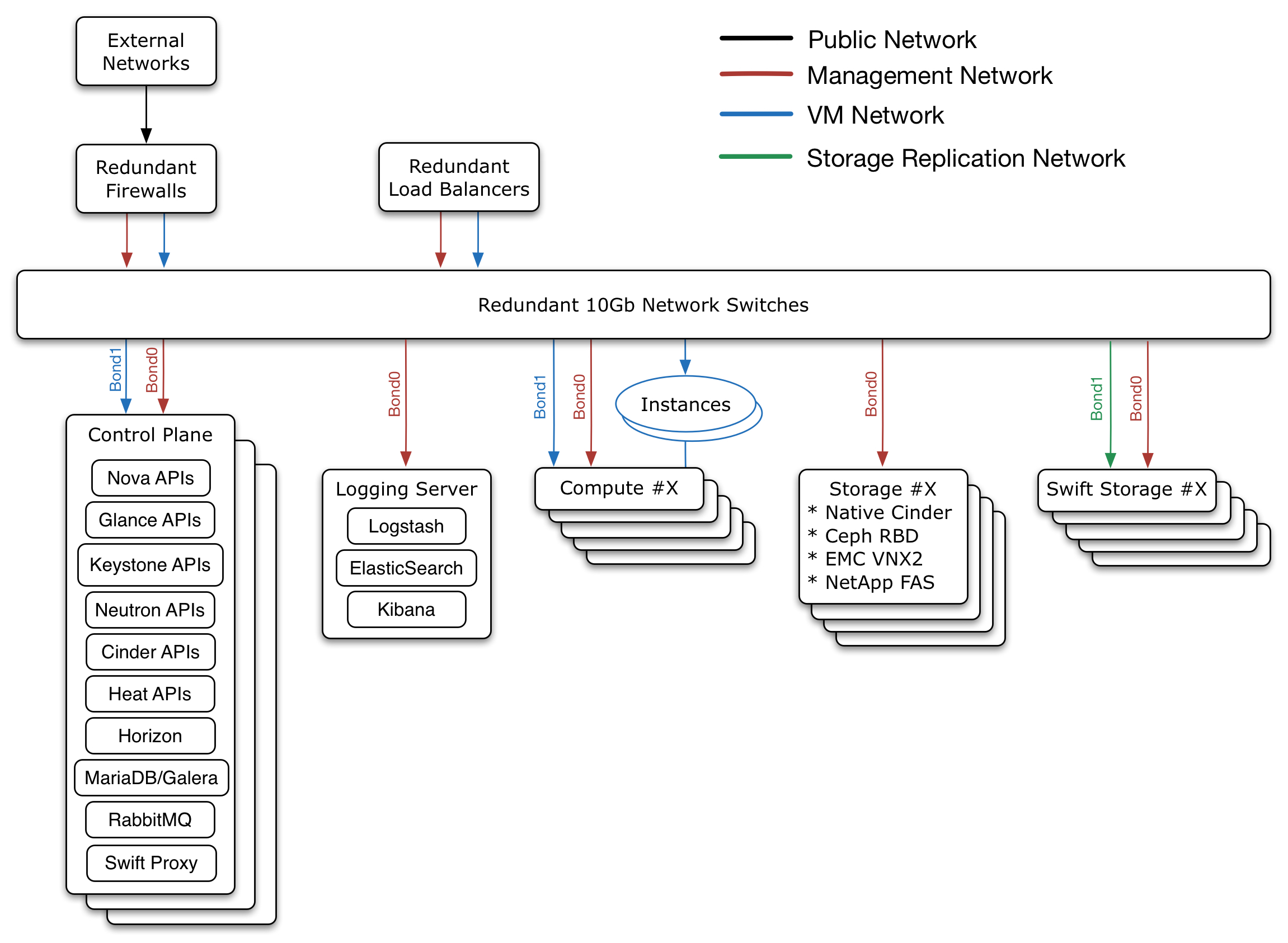 Certified hardware
Compute:
All Ubuntu 14.04-compatible compute, including Cisco, Dell, IBM, HP and Open Compute based designed systems.
Complete list of certified devices
Networking:
OpenStack Networking (Neutron) with the ML2 plug-in and Linux Bridge agents support the following:
Flat and VLAN provider networks
Flat, VLAN, and VXLAN overlay (tenant) networks
L3 agents for routing, NAT, and floating IP addresses
Storage:
OpenStack Object Storage (Swift)
OpenStack Block Storage (Cinder) driver support for Ceph RBD, Cinder/LVM, EMC VNX2, and NetApp FAS
Rackspace® Private Cloud powered by OpenStack® Version 11 software is based on the OpenStack Kilo release and includes the following services:
| | |
| --- | --- |
| Compute (Nova) | Provision and manage large networks of virtual machines. |
| Dashboard (Horizon) | Provides administrators and users a graphical interface to access, provision, and automate cloud-based resources. |
| Object Storage (Swift) | Provides redundant, scalable object storage using clusters of standardized servers capable of storing petabytes of data. |
| Block Storage (Cinder) | Provides persistent block level storage devices for use with OpenStack compute instances. Includes OpenStack Block Storage (Cinder) drivers for Cinder/LVM, Ceph RBD, EMC VNX2, and NetApp FAS. |
| Networking (Neutron) | Pluggable, scalable, API-driven network and IP management. Manage flat and VLAN provider networks; flat, VLAN, and VXLAN overlay (tenant) networks; and layer-3 agents for routing, NAT, and floating IP addresses. |
| Image Service (Glance) | Provides discovery, registration, and delivery services for disk and server images. Supports a variety of common image formats (Raw, AMI, VHD, VDI, VMDK, OVF, qcow2). |
| Identity Service (Keystone) | Provides a central directory of users, mapped to the OpenStack services they can access. Also integrates with existing OpenLDAP services for user authentication. |
| Orchestration (Heat) | Allows application developers to describe and automate the deployment of infrastructure via templates. |