RackConnect
If you need the reliability of dedicated hosting and the scalability of the cloud, RackConnect® enables you to connect your dedicated servers to our fully managed cloud, giving you the performance of traditional hosting plus increased security with single-tenant Cloud Networks. RackConnect lets you realize the power of the hybrid cloud backed by 24x7x365 Fanatical Support®.
Build what you need
Mix and match public cloud, private cloud, and dedicated servers to create your ideal environment. Add products and services as you need them.
For Enterprise Business
For Small and Mid-sized Businesses
Enterprise businesses trust their mission-critical applications on highly available and high-performing traditional hosted infrastructure, using products such as high-speed SAN storage, single-tenant virtualization, and high-capacity load balancers. RackConnect can enhance this infrastructure with rapidly elastic cloud compute and storage resources, enabling you to flex your capacity at a moment's notice, reacting to unexpected spikes on demand or to seasonal business trends. RackConnect offers a number of security features on the cloud side that were previously available only in dedicated environments.
Customers with smaller dedicated hosting footprints can realize cost savings by shifting certain components of their application to a cloud platform, such as the web or application tier. For example, moving image libraries to cloud storage reduces the dedicated storage requirements and enables faster content distribution via the CDN capability of Cloud Files.
If you're using Cloud Servers, RackConnect enables you to add a custom-built, high-performance database or app server to provide a more secure, single-tenant backend for your app. Layer on a dedicated firewall, web app firewall, or DDoS mitigation to help protect your entire solution.
And with the addition of the Brocade ADX as a connected device, the entry point to RackConnect-capable hardware has expanded.

Rackspace CTO John Engates explains new features and functionality that enable you to connect your datacenter and Rackspace environments using powerful RackConnect technology more securely and easily than ever.



"We flicked the switch, and went almost immediately from having zero traffic to millions of hits."
Marvin Li, Vice President of Technology, VEVO
How RackConnect works
Choose an F5® BIG-IP® Local Traffic Manager, a Cisco® ASA firewall, or a Brocade ADX 1000 to connect your traditional hosted infrastructure to the Rackspace Cloud.
Rackspace Cloud Servers can be spun up on-demand on single-tenant Cloud Networks.
Choose Cloud Network IP ranges for your Cloud Servers.
Connect to Rackspace with an encrypted VPN tunnel to link the Rackspace Cloud to your data center or existing IT infrastructure.
Bring dedicated security solutions to Cloud Servers including IDS and WAF.
Add Cloud Files for easily scalable storage.
Add or remove Cloud Servers to load balancer pools instantly through the API.
Our high-capacity network delivers fast throughput for Cloud Servers, Cloud Files, and RackConnect.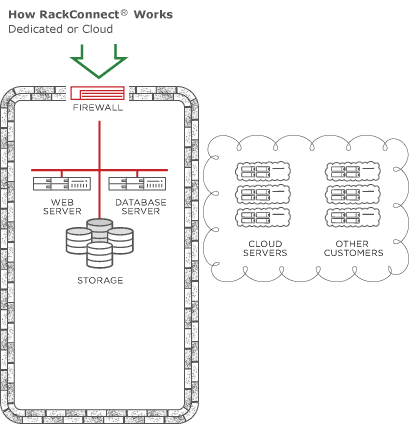 RackConnect RegionLink: Reduce latency and establish redundancy in mission-critical applications with inter-region connectivity across the U.S.
RackConnect Global: Manage IT infrastructure, apps and data across multiple environments, cloud providers and data center locations — plus get a 99.9% uptime guarantee.
Use cases
The use cases below show you the true flexibility of the RackConnect solution, from simple configurations to true enterprise scale. These examples can help you solve the tradeoff between security requirements, performance, and cost.
Dedicated Firewall
for Cloud Servers
Cost Effective Hybrid

VPN Cloud
Bursting
Dedicated
Load Balancing
Enterprise Hybrid