We Manage Hadoop and Spark, so you can focus on your business
Big data applications help you make sense of your data and discover critical insights that drive business optimizations. But with large volumes of data, a shortage of expertise, and large upfront investments, your project costs can quickly spiral out of control.
With Cloud Big Data, you can quickly provision a robust environment powered by Apache™ Hadoop® and Spark that's sized to fit your high-volume data processing needs and your budget. And because it's built on Hortonworks Data Platform (HDP), you get enterprise-grade quality and 100% open technology.
If you need the performance of bare-metal servers, try our newly launched OnMetal for Cloud Big Data—for both Apache Spark™ and Hadoop—offering you a fully managed bare-metal platform for in-memory processing. Get a free trial of OnMetal for Cloud Big Data by visiting BareMetalBigData.com.
Security or isolation concerns; learn more about Managed Big Data Platform, our dedicated Hadoop solution.
Starting at

$0.34/hr
No upfront costs

Get started quickly
Focus on developing your application and leave the management details to us. Spin up an HDP cluster today with no upfront cost or risk.

Predictable pricing
Cloud Big Data offers simple pay-per-hour pricing for a wide variety of workloads without any hidden costs or long term contracts.

Advanced Toolset
Cloud Big Data is based on an industry leading Apache Hadoop distribution and integrates with a mature ecosystem of tools and applications.
Managed by Data Experts. With managed cloud, our experts can run your cloud ops for you, or be there whenever you need help—you choose the level of service you want. Either way, you get 24x7x365 access to engineers who can help you achieve the highest performance, security, cost efficiency, and scalability for your workloads.
Pricing
Outgoing bandwidth is aggregated at the account level across all US regions. Per GB charges are lower for higher usage rates, and all incoming bandwidth and communication across private networks is included free of charge.
Storage
Hosting
vCPU
RAM
Node type
Network throughput
64GB
Multi-tenant
1
2GB
Master Services Node
up to 1.25Gbps
$0.09
$65.70
128GB
Multi-tenant
1
4GB
Master Services Node
up to 1.25Gbps
$0.18
$131.40
1.25TB
Multi-tenant
2
7.5GB
Data Node
up to 1.25Gbps
$0.34
$248.20
2.5TB
Multi-tenant
4
15GB
Data Node
up to 2.5Gbps
$0.68
$496.40
5TB
Multi-tenant
8
30GB
Data Node
up to 5Gbps
$1.36
$992.80
10TB
Single-tenant
16
60GB
Data Node
up to 10Gbps
$2.72
$1,985.60
On Metal 3.2TB
Single-tenant
40
128GB
Data Node
Bonded 10G Network
$2.95
$2,153.50
The Ambari cluster management server and three additional 4GB master services nodes are included at no additional charge.
We support multiple stacks and services including HDFS, YARN, Apache Spark, Apache Kafka, Apache Zeppelin, Apache Storm, and Tachyon. Read more about the usable storage for your Hadoop cluster.
Additional pricing details
Bandwidth pricing
We apply tiered pricing based on your aggregated outgoing bandwidth at the account level (across all US regions), including Cloud Servers, Cloud Files, Cloud Load Balancers, and Cloud Big Data, so you pay less for higher usage.
| Usage | Price/GB |
| --- | --- |
| First 10TB | $0.12 |
| Next 40TB | $0.10 |
| Next 150TB | $0.08 |
| Next 300TB | $0.07 |
| Next 524TB | $0.06 |
| Over 1024TB | CONTACT US |
* These products are billed monthly.
Request a free Data strategy session
Talk to our data experts about your business objectives and we'll strategize with you the solutions needed to achieve them.
Sign Up Now
Developer Resources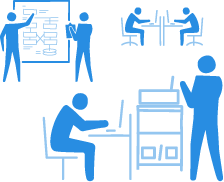 Dig deeper into Cloud Servers with informative blog posts, technical info, and customer success stories.
General Resources
Get instant help and information from blog posts, documentation, white papers, and more.