Why Smart SMBs Rely on Microsoft and Rackspace for Security Services
By Michelle Ramirez -
Every business today is concerned about its ability to protect itself from cyberattacks and data breaches, but the pressure on small and medium-sized businesses can be even more acute.
That's because many lack some of the most basic protections, such as email encryption or two-factor authentication. According to a survey conducted last year by YouGov and Microsoft, almost three-quarters of SMBs say they feel vulnerable to a cyberattack — a figure that jumps to almost 90 percent for those who've already been breached.
They're right to be worried. Most SMBs handle sensitive information, with over half collecting and storing social security numbers, and almost a third handling bank account details. Preventing unintentional leaks of these types of sensitive information is a challenge, despite the best efforts and good intentions of employees.
Cybercriminals use phishing and ransomware attacks to get people to download viruses and malware or unwittingly give out sensitive information. These attacks can cause significant issues for a business, ranging from loss of customer trust to financial woes.
Yet SMBs report several barriers when seeking to improve security, according to the same survey. More than half fear they can't afford comprehensive solutions, nor hire the specialists necessary. A lack of expertise leads to concerns about purchasing the wrong solutions, while more than a quarter find the entire topic too complex to take on.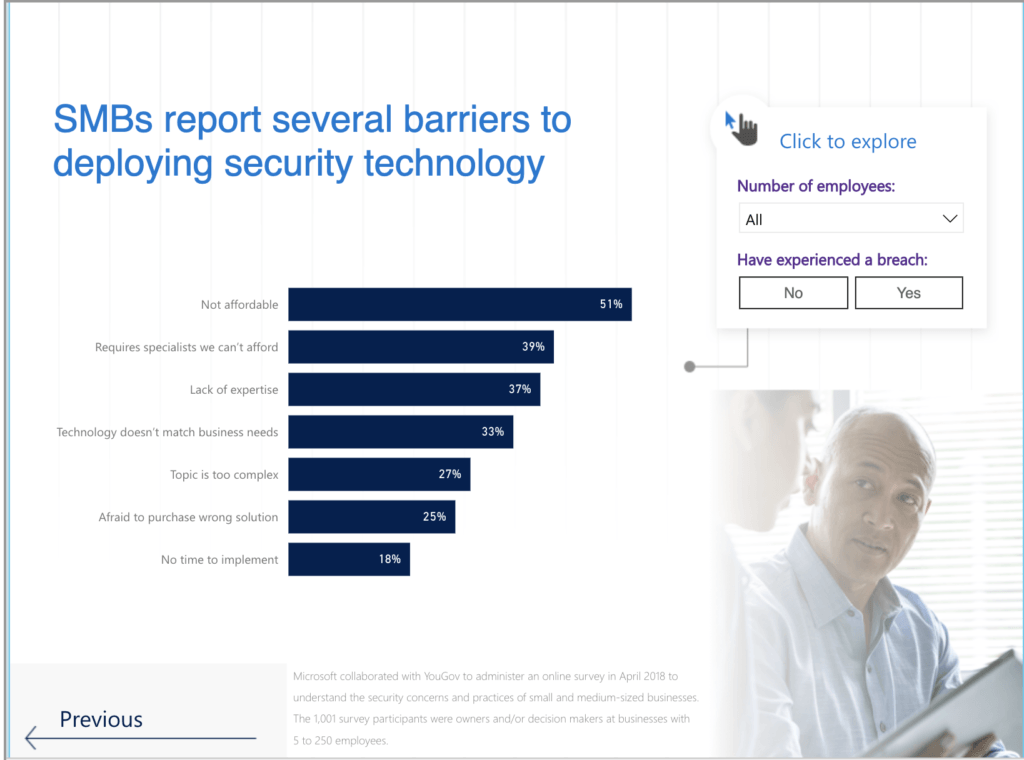 But small and medium-sized businesses don't have to go it alone. They don't need to become security experts, or even hire them. Microsoft 365 Business was built for SMBs, addressing the barriers and challenges outlined above.
As a five-time Microsoft Partner of the Year, Rackspace can help your business get up and running with Microsoft 365 Business in exactly the right way for your company, whether through licensing, as a managed service or through our professional services.
Because one thing we've learned during our twenty-year partnership with Microsoft is that there's no one size fits all solution, even for SMBs. Each comes with its own set of challenges, regulatory and compliance requirements and budgets.
That's why we offer an Initial Security Assessment, to determine all the areas of vulnerability within a company. As Vice President of Microsoft's One Commercial Partner Organization Gavriella Schuster explained yesterday in her "corenote" from Microsoft's premier partner conference, Inspire:
Rackspace "finds where the gaps are and fills them in, with multi-factor authentication and conditional access through Microsoft 365 Business. And through remote monitoring, they can keep the customer secure with an ongoing managed service. Security as a service that's repeatable and scalable — it's a win-win. The customer has a secure user experience, and Rackspace and the customer have a trusted platform."
In one recent example, Rackspace worked with a long-time manufacturing customer in the wake of a security breach. Cybercriminals had stolen employee credentials and conducted reconnaissance on internal targets. Next, the attackers launched a spear-phishing campaign that led to the loss of a large sum of money through payments against fake invoices.
Our experts performed the Initial Security Assessment, which uncovered each area of vulnerability, then shared with the customer how the security features in Microsoft 365 Business, such as multi-factor authentication and email protection, could help. Each feature helps bolster defenses against phishing, malware, and viruses by:
sophisticated scanning of attachments and AI-powered analysis to detect and discard dangerous messages,
automatic checks of email links to assess if they're part of a phishing scheme and prevent users from accessing unsafe websites, and
device protection to prevent them from interacting with ransomware and other malicious web locations.
Microsoft 365 Business also offers industry-leading privacy protections — you remain the sole owner of your data, with controls over who in your business can access which data.
Our customer chose the licensing route with24x7x365 support, and credits Rackspace experts with reducing operating costs, improving security and updating their technology with a simplified solution to manage their critical information and data.
Other customers prefer our Managed Services, where a team of our experts offers proactive guidance on application management, security best practices, usage insights and optimization, plus proactive operational support. This support frees up customers to focus on their core business.
Learn how Rackspace and Microsoft 365 Business can make your business more secure.