Customers Save $258K per 20 Servers Annually with Rackspace OpenStack Private Cloud
Christian Foster
There are many reasons customers choose private clouds to modernize their business:
increased productivity drives new and faster innovation;
lower costs, IT expenses shift from capex to opex;
to meet security, compliance and data sovereignty requirements;
ability to migrate existing applications to cloud without requiring a major refactoring;
avoiding vendor lock-in.
But operating a private cloud is extremely complex; a well-publicized OpenStack survey found that half of all enterprises attempting to implement an OpenStack private cloud failed due to a lack of operational expertise. That means customers must think carefully about whether to attempt operating their own cloud (e.g., monitor, patch, secure, upgrade, scale, capacity planning), as opposed to partnering with a trusted expert.
As a founder of OpenStack, Rackspace believes using OpenStack as a managed service offers the greatest chance of success. And with more than one billion — that's billion with a B — server hours of experience, we've helped more customers than any other provider successfully wring the most value out of their OpenStack private clouds.
To quantify the value of our offering, we recently hired a third party to conduct a Return on Investment study with our customers. It found that on average, customers who use Rackspace to operate their cloud save $258,000 per every 20 servers in their cloud in annual employee costs versus doing it themselves. The study also found that across the board, using Rackspace increases customers' user productivity by 15 percent.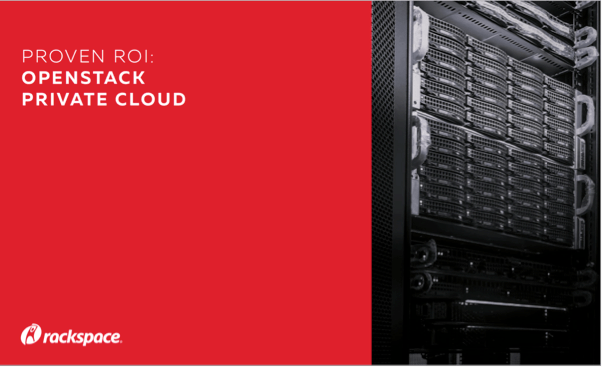 To learn more about how Rackspace helps our customers in these tangible ways through our Rackspace OpenStack Private Cloud offering, download the ROI study and other OpenStack-related white papers, below.
Proven ROI: OpenStack Private Cloud – Learn how Rackspace helps customers save money, increase productivity and sharpen strategic focus using our OpenStack private cloud offering.
OpenStack in the Enterprise – Find out why OpenStack powers over half of the Fortune 100 data centers around the globe. We explore vertical-specific workloads, including how the financial services, retail and healthcare industries are using OpenStack private clouds to address security and compliance requirements.
Automating DNS Within OpenStack – With OpenStack gaining wide adoption, as we onboard customers at Rackspace, it's not uncommon for us to encounter novel issues that need to be resolved. Find out how we helped a new customer with delivering business intelligence services by customizing OpenStack DNS to meet their needs.
These papers will help increase your knowledge of OpenStack and better understand the value of our managed OpenStack private cloud solution. Please visit our Resources page for even more.
Free strategy session
We have successfully scaled OpenStack to thousands of nodes and operate private clouds for some of the largest companies in the world. Talk to our proven experts about your business objectives and we'll strategize with you the solutions needed to achieve them — no strings attached. SIGN UP NOW.