Rackspace Named One of Texas' Best Workplaces
tracy.hamilton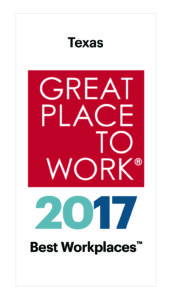 Rackspace has earned a spot on Fortune's 50 Best Workplaces in Texas, based on a survey of more than 100,000 employees located in the Lone Star state.
That's part of the larger, U.S.-based survey that landed Rackspace on the Best Tech Workplaces in the U.S. list earlier this month.
Yee haw!
With headquarters in San Antonio, our third-largest office in Austin (London is home to the second-largest Rackspace office) and a data center in Dallas, roughly 4,000 Rackers — as our incredible employees are known — call the great state of Texas home.
Fortune partners with Great Place to Work, a research and consulting firm which surveys tens of thousands of U.S. employees each year to compile its lists, which also include Best Places for Millennials and Best Workplaces for Working Parents (yep, we landed on both of those, too.)
Learn more about the Core Values that make Rackspace a great place to work:
https://youtu.be/7FGpKxXYBa4
"Rankings reward organizations where not only the majority of their employees experience a great place to work, but these experiences are highly consistent, regardless of gender, race/ethnicity, job role or other personal characteristics," stated Great Place to Work editors in explanation of its Texas rankings.
That jives with Rackspace's consistent placement on the Great Place lists, says Courtney Skarda, vice president of Racker Experience and a ten+ year Racker herself.
"Rackspace isn't just a great place if you're young and single, and it's not just a great place for working moms and dads," she says. "We work hard here, but we encourage each Racker to fully utilize his or her own strengths — and that translates into Fanatical Support for our customers."
John Engates, who serves as Rackspace's chief technology officer, is a Texas native born in San Antonio who went to high school right next to Rackspace headquarters, affectionately known as the Castle, thanks to its former identity as the Windsor Park Mall.
As someone who's watched Rackspace grow from its earliest days as a web hosting provider into one of the most comprehensive managed cloud companies on earth, Engates said he was gratified but not surprised to see the company land on both the top Texas and top tech workplaces list.
"Given the competition for great talent — and frankly because it's the right thing to do — we've worked hard to create a culture where people want to come to work and volunteer their best," he said.
In the video below, Engates and other Rackers talk about their first day on the job:
https://youtu.be/4YG0jogquRw
Are you a Racker? Learn more about Rackspace culture and see the jobs we're hiring for at jobs.rackspace.com.