Rackspace Named 2017 Red Hat Innovator of the Year
bryanthompson
I'm thrilled to announce that Rackspace was named the 2017 Red Hat Innovator of the Year today.
Earlier this week, Red Hat, Inc., announced that Rackspace was named the 2017 Red Hat Innovation Awards winner in the Cloud Infrastructure category. We were recognized for our Rackspace Private Cloud powered by Red Hat offering, which delivers OpenStack private clouds as-a-service using the Red Hat OpenStack Platform.
After that, voting opened at the Red Hat Summit to determine which of the five award recipients (there are four other award categories in addition to Cloud Infrastructure) would be named the 2017 Red Hat Innovator of the Year.
Watch the award being announced in the video above, and learn a little more about our award-winning offering.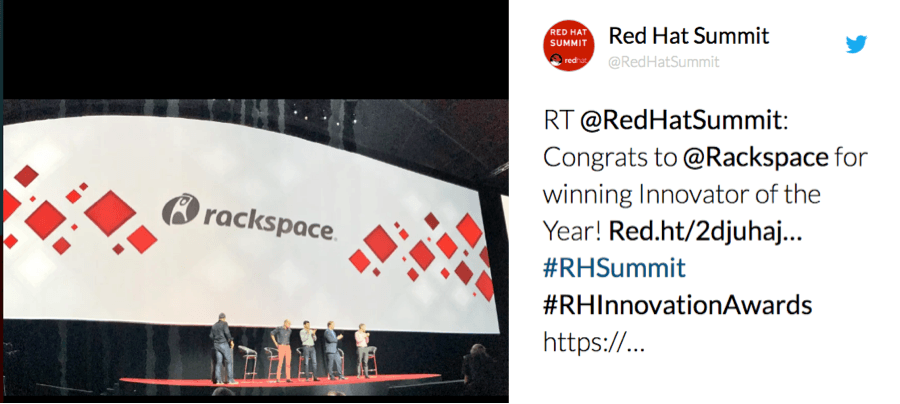 This recognition is a testament to the hard work and innovation that both Rackspace and Red Hat team members poured into developing this solution over an 18-month period of time. And it is another signal of the strong momentum behind organizations wanting to consume private clouds as-a-service.
During the Red Hat Summit, I also had an opportunity to deliver a brief keynote about out award-winning offering and participate in an interview with the Cube, discussing the state of private clouds, OpenStack, containers, cloud operations and more.
Next week, more than two dozen Rackspace private cloud experts will be on hand at the OpenStack Summit in Boston. You can find their speaking sessions here, or swing by Booth B20 and have your questions answered directly.
Can't make it to Boston? No problem. Sign up for a no strings attached free consultation to speak with one of our experts about your business objectives. We'll strategize with you on the solutions you need to achieve them. SIGN UP NOW.