Pride Portraits Allow Rackers to Express, Connect and Be Seen
tracy.hamilton
Rackers Anne and Jessica Navarro had a goal when they came to sit for Pride Portraits. The couple, who met at Rackspace and married in late 2016, are trying to start their own family — not a straightforward proposition for many members of the LGBTQ community. They found little guidance, and more than a few roadblocks. "We started a resource site, Love Like Honey, for the LGBTQ community, which also has a blog detailing our journey, to share what we've learned, and hopefully make it easier for others," said Anne. So when Pride Portraits founder, photographer and activist Eric Edward Schell arrived at Rackspace to take portraits of members of the LGBTQIA+ community and allies as a Pride Month activity sponsored by the Pride Racker Resource Group, the Navarros knew it would be great way to get the word out.
Each portrait, which lives on the Pride Portraits Facebook page, includes a statement from the subject — or in this case, subjects. The Navarros wrote about Love Like Honey. As they posed together in front of a bright, paint-splattered background, Schell helped arrange them. "Bring your chin down just a little bit," he directed. "Good, good." He snapped away, periodically looking at the images on his camera. Minutes later, he was on to the next portrait. Schell estimates he's now taken roughly 3,500 portraits of members of the community and allies, a passion project born in the aftermath of the Pulse nightclub shooting.
"The year before, our community finally got marriage equality," said Schell, who lives in Houston. "I thought we were so far along. But that sense of hope was ripped away along with those 49 lives; I couldn't get my head around the fact that people still wanted us dead just for existing." Schell put out a call on Facebook to take pictures of community members, as a way to humanize and increase their visibility in a positive way. The first event was packed with people seeking to have their pictures made, and as those first "smiling, happy portraits" flooded social media, the project took on a life of its own. Most recently, he's partnering with Facebook itself, photographing its employees and marching with them in San Francisco's Pride Parade. Today, Schell travels regularly, making portraits of activists, celebrities and politicians along with those more often marginalized and discriminated against than celebrated.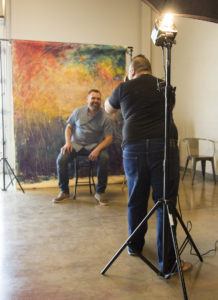 PJ Lovejoy, program manager for global engagement and inclusion at Rackspace, saw portraits of his own friends on social media and thought it would make a perfect Pride Month event at Rackspace. A colleague suggested reaching out to TechBloc, a grassroots organization working to attract and retain tech and related talent to San Antonio, about also hosting the project the same evening as its monthly meetup. Lovejoy, who also helps lead Pride, said they're always looking for ways to connect LGBTQIA Rackers to one another. A "family time" lunch held after the Pulse shooting included many who'd never attended an event before, and the group's Slack channel continues to grow, offering a place for even those who may not be interested in attending events to connect and share. "We have the policies and processes in place that allow people to come in and feel like they're protected in the workplace and have the freedom to succeed," he said. "What makes Rackspace a "Best Place to Work" is that in addition, our community has opportunities to connect with one another, however they want to do that." Both Pride Portrait events in San Antonio took place on June 12, two years to the day after the Pulse nightclub shooting.
Laura Sue D'Annunzio, who joined Rackspace in March of this year as the company's chief people officer, came to have her portrait taken, she said, "because inclusion is a core value to me." And not just personally. Upon her arrival, D'Annunzio along with CEO Joe Eazor, kicked off a renewed emphasis on diversity and inclusion at Rackspace, including the launch of an Inclusion Council. "Inclusion will look and feel different for everyone," she noted. For example, for D'Annunzio, who came of age at a time when women were scare in technology (and haven't yet reached parity today) and graduated from a women's college, gender inclusion is a priority for her.
Allie Patterson, an ally and community affairs specialist at Rackspace who oversees many of the company's volunteer efforts, wanted to be photographed doing something she loves: crocheting. "It's my space to breathe and recharge so I can be a better human," she said. "It's important for everyone to find or create their own space. Want to learn more about working at Rackspace? Just click on the image below.